'Supergirl' Drops Hints On What To Expect In Arrowverse Crossover; Things To Know About The Three-Part Crossover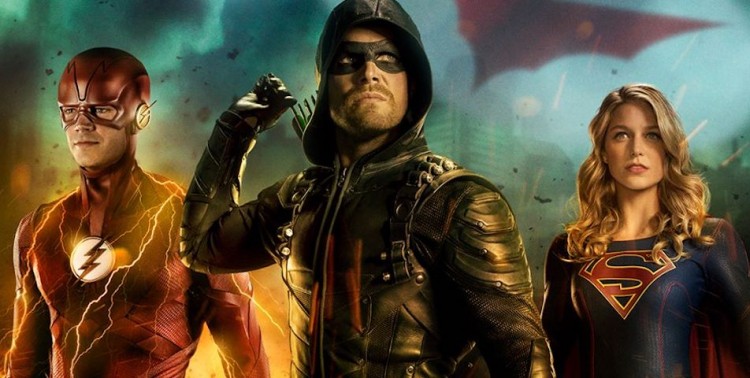 Supergirl has given the fans of The CW/DC superheroes a lot more to chew before the highly-anticipated annual Arrowverse crossover. The recent episode of Supergirl dropped some hints about the chaos that will be featured in the "Elseworlds" episode.
The Episode 8 ending stinger of Supergirl Season 4 showed a decimated Earth-90 and bodies of some familiar DC heroes are scattered all over the place. While some of them look dead, one hero survived the destruction: the Flash (John Wesley Shipp).
In the Supergirl episode titled "Bunker Hill," the speedster is seen crawling towards a mystery book but Mar-Novu, a.k.a. the Monitor (LaMonica Garrett), to pick it up. He then declares that the heroes have failed and are now going to die. The Flash tries to runs away before the energy coming out of the book can overtake him.
What is the Monitor role in the crossover? The Arrow-The Flash-Supergirl crossover will focus on a big threat that is coming to Earth 1.
"What you have is a character called the Monitor, who is basically testing universes to see which universe is going to best be able to withstand the incoming threat," Arrow actor Stephen Amell (Green Arrow) earlier told Entertainment Weekly.
So far, fans of the Arrowverse were told that the three-night event, titled "Elseworlds," will feature Oliver Queen (Amell) as The Flash and Barry Allen (Grant Gustin) as the Green Arrow. Apparently, the two will wake up and discover that reality has been altered and they have switched lives.
The crossover will also focus on the Arkham Asylum. The Green Arrow and The Flash will team up with Supergirl (Melissa Benoist) and Superman (Tyler Hoechlin) as they pursue Arkham Asylum doctor John Deegan. The wicked doctor is responsible for altering the reality which will happen to Barry and Oliver in the crossover.
The CW superheroes crossover will also feature Gotham City for the first time in the Arrowverse. This will also set up the introduction of Kathy Kane, a.k.a Batwoman. The iconic DC character will be played by Orange is the New Black actress Ruby Rose.
The crossover will also feature Lois Lane (Elizabeth Tulloc), Psycho-Pirate (Bob Frazer), and Amell's wife Cassandra Jean Amell as Nora Fries. John Barrowman will also return as Malcolm Merlyn.
The three-night special will kick off with The Flash on December 9 at 8 p.m. Then the story will continue in Arrow on December 10 at 8 p.m. and will conclude in Supergirl on December 11.
© 2019 Korea Portal, All rights reserved. Do not reproduce without permission.