'Outlander' Season 4 Episode 5: Brianna Heads To The Stone; Claire Tries To Resolve A Feud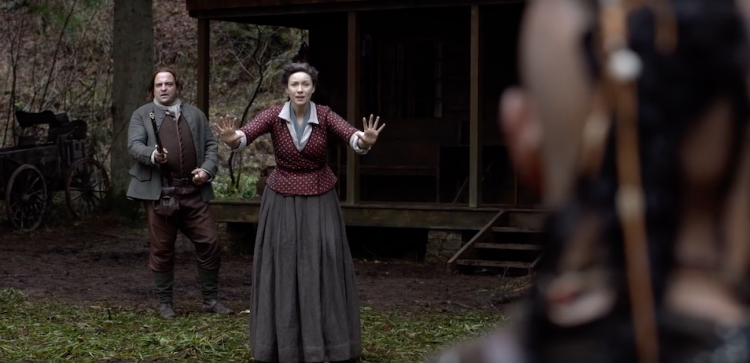 A more tense episode is coming up in Outlander Season 4 this Sunday. Claire will be using her medical skills to aid a fellow settler and she will also show off her peacemaker skills when she gets caught in the middle of two feuding groups.
New stills for the upcoming Outlander Season 4 Episode 5 have been released. One of the photos shows Claire (Caitriona Balfe) at the bedside of a woman who is holding a newborn baby. It looks like Claire will be assisting in the delivery of the baby.
Jamie's (Sam Heughan) wife also develops a bond with Adawehi (Tantoo Cardinal) as they are seen in another photo sharing a chat while preparing Claire's medicinal herbs. In the trailer for Episode 5, Adawehi asks Claire if she has any children. Claire tells her that she has a daughter who lives far away.
The teaser for Episode 5, titled "Savages," also shows Claire being caught up in the middle of feuding Cherokee tribe and immigrants. Apparently, a group of European immigrants gets furious when some Native Americans, he called "savages," allegedly steal water from their stream.
It appears that it will be all up to Claire to settle the dispute as Jamie and Young Ian (John Bell) travel to a nearby town to recruit settlers for Fraser's Ridge. Claire tells a European man that the tribe men are peaceful people. However, it seems like the situation escalates as a shot is fired and Claire is seen holding shotgun.
Meanwhile, in the 1970's timeline, Roger (Richard Rankin) travels to Scotland to follow Brianna (Sophie Skelton). Then the sneak peek shows Jamie and Claire's daughter at the Craigh Na Dun' in Inverness. She is seen reaching to touch the stone. Roger is concern about Bree traveling to the past especially after he found out that Jamie and Claire died from the fire at the Fraser's Ridge at least two years after they acquired the land.
Outlander fans have already know that Brianna will be able to reunite with her family. However, Outlander executive producer Ronald D. Moore previously said Bree will travel back in time but in a different way that Claire took.
"The path that she takes to make that journey is very different than the path that Claire took. They're on very different tracks. She goes for a different purpose, and in a different way than Claire did, and once she arrives there, she has a different set of problems than what Claire dealt with," Moore told Elle Magazine.
Viewers will finally find out how Brianna travels to the 18th century in the next episode. Outlander Season 4 Episode 5 which will air on December 2 at 8/7c on Starz.
© 2019 Korea Portal, All rights reserved. Do not reproduce without permission.