Brianna Travels Back in Time in 'Outlander' Season 4 [Spoilers]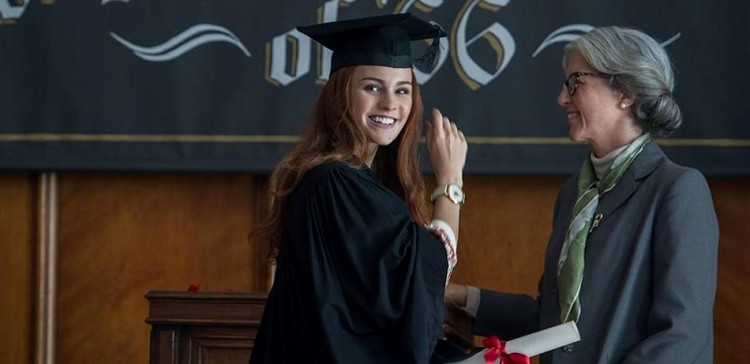 It's going to be a major Outlander Season 4 for Brianna Randall Fraser. It has been confirmed that the character will travel back in the 18th century based on the leaked photos shared online.
In the previous season of Outlander, Claire Fraser (Caitriona Balfe) left her 20-year-old daughter, Brianna (Sophie Skelton) in the 20th century to look for her husband and Bree's father, Jamie Fraser (Sam Heughan). At the end of the season, the couple survived a shipwreck at the sea and washed up on the shore of the Georgia coastline in colonial America.
The last time Brianna was seen was in the earlier part of Season 3. She was with her boyfriend Roger Wakefield (Richard Rankin) in Boston where Claire left them in the present time. However, it looks like she will be traveling to the 18th century in the next installment. This means she will be reunited with her mother and will finally see her father for the first time.
The leaked photos show Brianna in a period outfit. Another photo shows her talking to Jaimie's brother-in-law, Ian Murray (Steven Cree). It suggests that Bree will not only see her father but will also be able to meet her other ancestors.
Reports indicated that Bree's scenes are shot in Dunure, Scotland. The Starz series is currently filming Season 4. The cast and crew of Outlander are filming in multiple locations across Europe.
Jaime and Brianna' Reunion in Outlander Season 4
Fans of Diana Gabaldon's series of novel series have known that in the fourth book, Drums Of Autumn, Brianna will be reunited with her parents. It is still interesting though to see how the TV adaptation will remake this much-awaited scene.
Gabaldon recently teased the Jaime and Brianna's reunion. She shared on her Twitter account a link that contains an excerpt of the emotional meeting on her book. In the excerpt, Brianna is contemplating if she will call Jamie "Daddy" as Frank (Tobias Menzies) was that person for her until he died.
Jamie then suggests that she calls him "Da" instead. Bree at first thought "Da" is a term from the Gaelic language. Jaime tells her that it is not a Gaelic term but just a short term for "Daddy" to make it easier to Brianna.
Outlander Season 5
Although the fifth installment hasn't been confirmed yet, Starz CEO Chris Albrecht assured fans that they have nothing to worry about the future of the show. He revealed that they already talked about the next season of the critically acclaimed show and it has been a very "productive" discussion with the other producers.
"We have joined the legions of fans of Outlander around the world. Our biggest concern is making sure that we don't kill Caitriona and Sam along the way," he said. Outlander Season 4 is expected to premiere in September 2018.
© 2023 Korea Portal, All rights reserved. Do not reproduce without permission.