'Where Stars Land' Episodes 21 & 22 Spoilers: Yeo Reum Asks Soo Yeon For A Date While He Suggests A Break From Her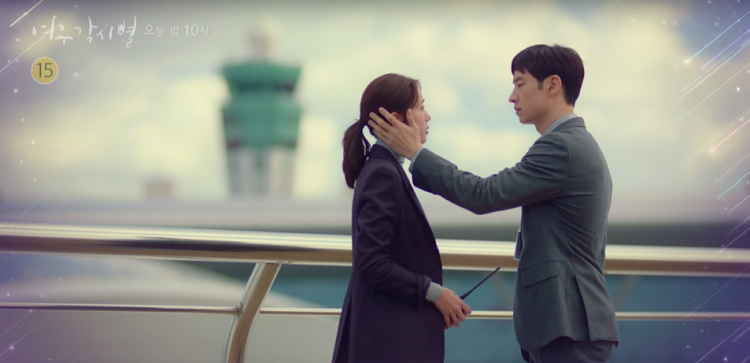 Yeo Reum will finally have the courage to ask Soo Yeon on a date in the upcoming Where Stars Land Episodes 19 and 20. However, it looks like their will never happen again and instead Soo Yeon will ask Yeo Reum for a break from her.
Things will get better between Soo Yeon (Lee Je Hoon) and Yeo Reum (Chae Soo Bin) in the upcoming episodes but it looks like it will be just in the beginning. Firstly, Seo In Woo (Lee Dong Gun) will continue to be a nuisance in Soo Yeon's life.
In the sneak peek for the upcoming episode, Soo Yeon is seen talking to Passenger Services manager Yang Seo Koon (Kim Ji Soo) and Security Service Team manager Choi Moo Ja (Lee Sung Wook). In Woo could have filed another report about the recent incident at the staff break room.
It seems like Ms. Yang and Mr. Choi would put restrictions on Soo Yeon's responsibilities at work because of it. In the teaser, In Woo is also heard telling Soo Yeon, "If it can't be fixed, you must quit."
Meanwhile, after the scary incident at the staff break room in the previous episode, Yeo Reum already has an idea that Soo Yeon is hiding something from her but somehow she is not scared of him. She will ask Soo Yeon if they could go on a date which he finds amusing. Soo Yeon would ask Yeo Reum if she is not afraid of him or finds him strange.
Instead of agreeing on a date, Soo Yeon would ask Yeo Reum for a break. He tells her that she is the reason why he keeps on breaking down. In the upcoming episode, Soo Yeon will lose his right arm and leg function again and this time, it could be worse than before.
In the previous episode, Soo Yeon went to work against the advice of the restaurant owner after his arms suffered another injury. Soo Yeon is determined to continue working and make the best out of the one month he asked for Mr. Choit and spend more time with Yeo Reum before he quit his job. But he figured out what is making him malfunction often and that is Yeo Reum.
Meanwhile, Yeo Reum is seen spending the night drinking with her friend, Ko Eun Sub (Rowoon). Eun Sub would probably figure out that Soo Yeon hasn't told Yeo Reum about his secret. Where Stars Land airs Mondays and Tuesdays at 10 p.m. KST on SBS.
© 2019 Korea Portal, All rights reserved. Do not reproduce without permission.