'Where Stars Land' Update: Lee Soo Yeon Shows Off Extraordinary Strength In Upcoming Episode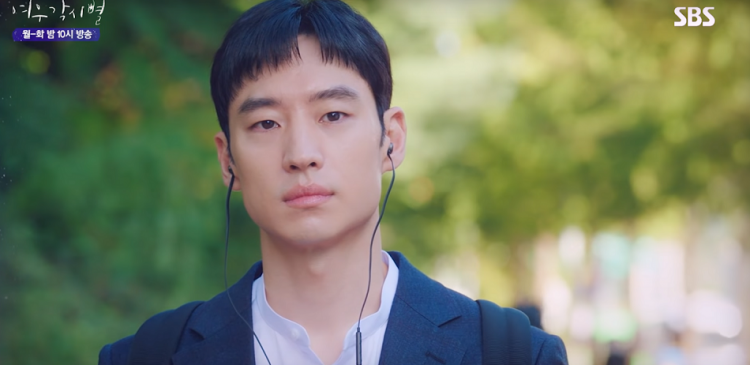 Lee Soo Yeon will get involved in a fist fight with some men in the upcoming episode of Where Stars Land. But instead of avoiding the fight, Soo Yeon will show his strength to his enemies.
The head of the passenger service Yang Seo Koon (Kim Ji Soo) has been very specific to Lee Soo Yeon (Lee Je Hoon) that he should not get involved in any incident that will attract attention to his strength. But it seems like he wouldn't take his boss' advice once again.
In some still images shared by Soompi, the series male protagonist is seen surrounded by at three men in an alley. All of the men are dressed in black suits. One of which is holding a piece of wood while the other throws a punch on Soo Yeon.
He catches the man's hand and shows him his arm-twisting skills. The man struggles to keep his arm straight while Soo Yeon is, as expected, showing his apathetic facial expression.
It looks like the men confronted Soo Yeon about something. What could be the cause of the fight is remain to be seen in the upcoming episodes of Where Stars Land this week.
Apparently, actor Lee Je Hoon took detailed instructions about the fight scene as it is connected to another storyline. It took the production crew two days to complete the filming of the scene.
"We worked especially hard to film this. It will show off Lee Soo Yeon's quiet but strong charms and present a suspenseful storyline. Please look forward to how Lee Soo Yeon, who hopes to hide his identity and live a quiet life, jumped into a street fight, as well as the full story and results from this incident," Soompi quoted a series' staff as saying.
Where Stars Land revolves around the lives of employees at the Incheon International Airport particularly Soo Yeon and the lead female character Han Yeo Reum (Chae Soo Bin). Soo Yeon's strength has been a subject of employees' gossip until team leader Seo In Woo (Lee Dong Gun) brought up an issue about a staff wearing a support device.
In the upcoming episode of the new SBS drama, Security Service head Choi Moo Ja (Lee Sung Wook) will talk to Soo Yeon about his secret. Choi will ask him to prove that the support device he is secretly wearing is safe to use in the airport.
Additionally, Yeo Reum will spend the night at Soo Yeon's place upon the latter's invitation. Ko Eun Sub (SF9 member Rowoon) will also hear the gossip that Soo Yeon and his close friend Yeo Reum are sleeping together.
Where Stars Land Episode 13 and 14 air on Monday at 10 p.m. KST. The K-drama has the SBS's Monday and Tuesday timeslot.
© 2019 Korea Portal, All rights reserved. Do not reproduce without permission.