'Where Stars Land' Episode 17 & 18 Spoilers: Soo Yeon & Yeo Reum Bringing Their Relationship To The Next Level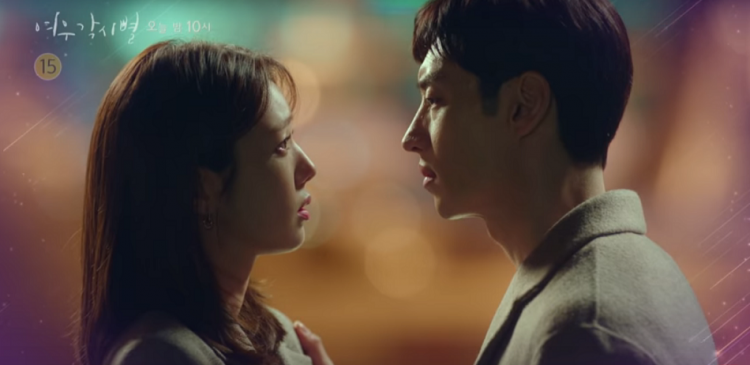 The romance between Soo Yeon and Yeo Reum is getting deeper. In the upcoming Where Stars Land Episode 17 and 18, Soo Yeon tells Yeo Reum that he wants to make love to her.
It is still unclear whether Soo Yeon's (Lee Je Hoon) behavior is due to his recent injury or not. The sneak peek for the upcoming episode suggests that the two might be spending the night together while the challenges at their workplace continue.
In the previous episodes of Where Stars Land, Na Young Joo (Lee Soo Kyung) was forced to have a housewarming party after her co-workers at the Security Service Department showed up at her place. The group also invited their boss, Choi Moo Ja (Mr. Lee Sung Wook), to the party.
Young Joo and Yeo Reum (Chae Soo Bin) recently moved to airport staff accommodation but their first morning as housemates did not go well. Young Joo also made it clear to Yeo Reum that they don't need to be friends even they share the same house. Yeo Reum talked to Oh Dae Ki (Kim Kyung Nam) to surprise Young Joo with a housewarming party after he overheard the two talking about what happened when Young Joo got hurt while doing her job.
Meanwhile, Soo Yeon and Yeo Reum decided to take a walk near their apartment complex. When they are about to share a passionate kiss, they got interrupted by a commotion at the alley. Instead, Soo Yeon gave Yeo Reum a quick kiss on her lips before he approaches the three men who are beating another man.
Soo Yeon successfully overpowered the men. When Soo Yeon approaches the man he rescued, he was stunned to find out that it is Mr. Choi. The men that Soo Yeon fought with are the drug smugglers at the airport earlier that day.
However, before Soo Yeon could lift Mr. Choi from the ground, the other man, whom he thought run away, used a taser on her neck. Soo Yeon fell to the ground, and Mr. Choi finally saw the support device on the former's right arm and right leg.
The good news is that Soo Yeon is safe and gets treatment at his friend's house. He, however, can't return to work for the meantime as his body armor has been severely damaged. Meanwhile, Yeo Reum is seen getting worried about Soo Yeon after the latter did not show up at work.
Soo Yeon will be back on his feet soon enough, but it looks like he can't still go back to work. It is most likely because Mr. Choi decided that his support device is not safe to wear at the airport. But it looks like Mr. Choi will regret his decision. Catch Where Stars Land Episode 17 and 18 on Tuesday at 10 p.m. KST.
© 2019 Korea Portal, All rights reserved. Do not reproduce without permission.