'Outlander' Season 4 Update: Caitriona Balfe Reveals Amusement On How They Avoid Spoilers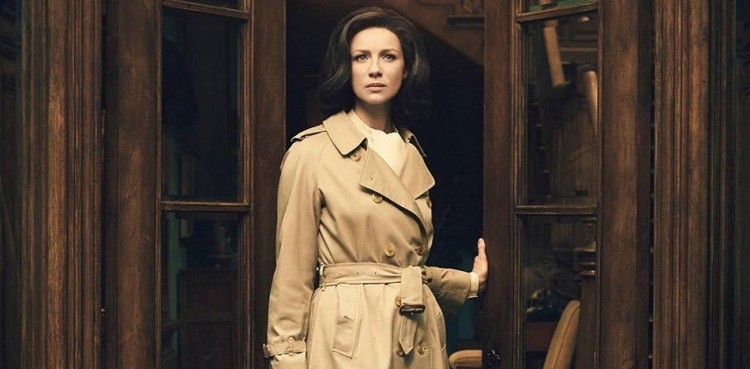 Caitriona Balfe jokingly talked about how funny it is for them to keep Outlander storylines from being leaked out. The actress talked about Outlander Season 4 and her upcoming movie during an appearance at the Jimmy Kimmel Live! show.
Balfe admitted that she finds it amusing that whenever they go on promotion for the show, they were told what the spoilers are that they may inadvertently reveal to the audience. But the actress said the TV series is based on novels that already out in bookstores.
"It's funny when we go to do these press things, we're always told, 'This is a spoiler, that's a spoiler.' But you're like, 'But it's on a book.' It's in a book, on a shelf, in a bookstore," Balfe said.
The 39-year-old actress said most parts of the TV adaptation are the same in Diana Gabaldon's novels and if there were changes, it is all minor. Outlander executive producer Maril Davis earlier admitted that Season 4 has some minor departure from the book and one of which is the slippery rock scene.
The Outlander TV series is based on Diana Gabaldon's series of novels. Season 4 is based on the fourth novel, titled Drums of Autumn. The first book in the series was released in 1991. This means, long before Outlander Season 1 premiere in 2014, Gabaldon's novels already have a strong fan base. Balfe recalled the time they were still filming Season 1 when she and co-star Sam Heughan were greeted by about 2,500 fans of the book when they attended an event in LA.
Meanwhile, Balfe also gave an update about her upcoming movie Ford V. Ferrari alongside Matt Damon and Christian Bale. The actress said she is already done filming her parts in the movie. Ford V. Ferrari began filming in July on different locations across the United States as well as in Le Mans, France.
The film follows the story of a team of American engineers and designers, led by automotive visionary Carroll Shelby (Matt Damon) and his British driver, Ken Miles (Christian Bale). They were tasked by Henry Ford II and Lee Iacocca with the mission of building a new automobile with the potential to finally defeat Ferrari at the 24 Hours of Le Mans race in France in 1966. Balfe plays the role of Mollie Miles, the wife of Bale's character.
Knowing that Kimmel and Damon have a decade-long "frenemy" relationship, Balfe jokingly brought the host a souvenir from the actor. The actress said she took Damon's Spanx from his trailer and gave it to Kimmel as a gift. Balfe said Damon told her that Kimmel might need a Spanx and he even wrote "Movie Star" in red pen on it.
Outlander Season 4 is set to premiere on November 4 on Starz. Meanwhile, Balfe's Ford V. Ferrari movie is scheduled to be released in cinemas on June 28, 2019.
© 2019 Korea Portal, All rights reserved. Do not reproduce without permission.