'Outlander' Season 4 Boss Reveals A Fan-Favorite Book Scene That Will Be Different In TV Series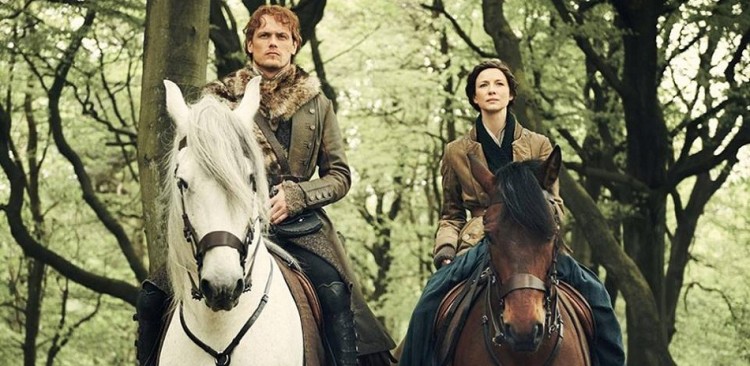 Fans have been warned that Outlander Season 4 has a scene that will be presented not exactly as it was told in Diana Gabaldon's' Drums of Autumn. The series bosses revealed that the scene is one of the most intimate moments between lead characters Claire and Jaime.
The bosses of the TV adaptation acknowledge that the Outlander novel has a strong fan base who have been keeping an eye on every detail of the TV show. Many fans are expecting Season 4 to be as close as in the book since the TV production did an excellent job in print shop reunion of Claire (Caitriona Balfe) and Jamie (Sam Heughan) in Season 3.
The show's producers feel pressure to deliver some of the readers' favorite scenes in the book, but understandably, there are several factors they have to consider in filming. Hence, an early fair warning.
Executive producer Maril Davis admitted that Season 4 has some departures from the book and one of which is the slippery rock scene in the book. In Drums of Autumn book, Claire (Caitriona Balfe) and Jamie (Sam Heughan) are traveling in South Carolina with some companion including Stephen Bonnet (Ed Speleers).
Due to the hot summer weather in South Carolina, Claire takes off to wash up in a river. Jamie, later on, joins her and the two had sex.
"We know fans are looking forward to the 'slippery rock' scene where it's a humid day, and Claire is bathing by the river. But we can't do it exactly like the book," she told TV Insider which suggest that it there is still a slippery rock scene, but it is not exactly filmed on how it was told in the book.
On how it will be presented on television audience, that is something that fans have to wait until Outlander Season 4 premieres in November. One thing is for sure though; there is no short of steamy scenes between Claire and Jaime in the fourth installment. The recently-released trailer for Season 4 already teased at least one scene when Jamie is seen lifting his wife out of a bathtub.
Meanwhile, Claire and Jamie are not the only couple who will have an intimate scene next season. Brianna and Roger will have their steamy moment too. Richard Rankin (Roger) talked to Entertainment Tonight about the filming of the sex scene with Sophie Skelton (Brianna). The actor said he never felt nervous during the filming.
"It was really nice because I think we have a lot of trust in each other as actors and a lot of confidence in working with each other. There was never any issue there and I feel that we could really connect," Rankin explained.
Outlander Season 4 will follow the life of the Claire and Jaime as they settle and build a home in the American colonies. The story picks up a few months after the Season 3 finale when the couple got washed off the Georgia coast. Outlander Season 4 kicks off on November 4 at 8 p.m. ET on Starz.
© 2019 Korea Portal, All rights reserved. Do not reproduce without permission.