Park Bom & Dara Reunion Makes Fans Nostalgic: Blackjacks Express Love & Joy For The Two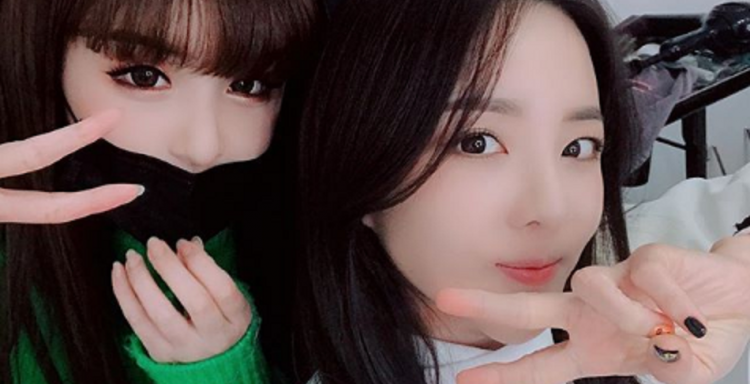 Park Bom and Sandara Park gave their fans some love when they shared a photo together. The Double Park sisters had reunited recently and it's enough for their fans to feel a little nostalgic.
The former 2NE1 members strike a pose for the camera and shared their photo together on social media. Both expressed the joy of seeing each other again.
"Long time no see. But we're always the same. Whenever Double Park meets, we have a fun talk," Dara captioned their photo on Instagram.
"With Dara for the first time in a while," Park Bom wrote. She also held a live broadcast on Instagram while she hung out with Dara as she got ready for an event.
Fans are pleased to see the two together even not on stage. Many also expressed how much they miss 2NE1 and hope all four members will have a reunion in the future.
"No matter how long I will always wait for the return of 2NE1," one fan commented. "Omg I'm very happy. You're together. I can't believe it. Forever Queenn 2NE1," another wrote.
Many thanked Dara for keeping in touch with her former bandmates. Some also hit on the 2NE1 haters for saying that the members did not get along well when they are still together.
This is not the first sweet interaction between 2NE1 members in the past months. Both Dara and Bom showed their support to former 2NE1 bandmate CL when her collaboration with Black Eyed Peas, titled "Dopeness," was released this week.
CL shared a promotional video of BEP's album that includes the song that features her. Sandara commented on CL's post by giving heart emoticons. Both Dara and Bom also shared the clip.
Sandara Park did not only have recent interaction with CL and Park Bom. The singer also recently spent some time with Minzy when the latter performed at the opening ceremony for a sports event in the Philippines.
The four members of 2NE1 debut together in 2009. In April 2016, Minzy left the band. Then the group's disbandment was announced in November of the same year. Dara and CL remain signed to YG Entertainment while the agency did not renew Bom's contract.
Dara recently experienced military training for the reality show "Real Men 300." As for Park Bom, she is currently busy preparing for her comeback as a solo singer under D-Nation Entertainment.
Originally, it is planned to release Bom's debut mini-album this month but it was later pushed back to January 2019. The singer recently appeared in Episode 3 of Music Business in Netflix. It was also reported that Bom will also make an appearance in YG Future Strategy Office, which stars BIGBANG member Seungri.
© 2020 Korea Portal, All rights reserved. Do not reproduce without permission.