Sandara Park Asks The Military To Take Care Of Daesung; Dara Sings 2NE1's 'Go Away' With The BIGBANG Member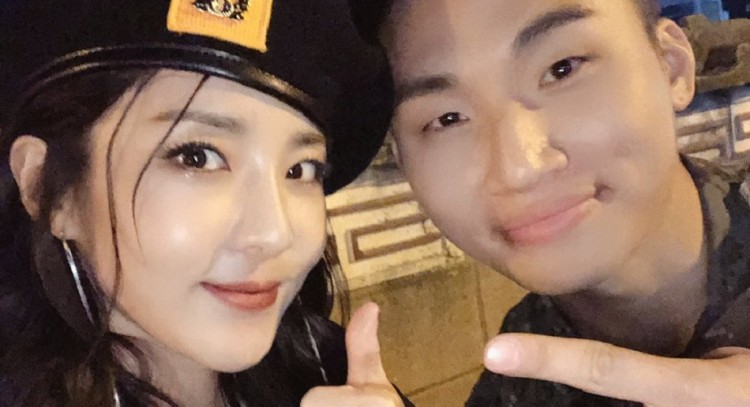 K-pop singer Sandara Park showed support to the South Korean military as well as to her friend BIGBANG member Daesung. Dara got invited to perform at the Let's Win Festival at the same military facility where Daesung is serving his mandatory military service.
Dara performed some of the hit songs of 2NE1 such as "Fire", "Do You Love Me", and "I Am the Best." While on stage, Dara showed her support for Daesung and asked the latter's fellow servicemen to take good care of her friend.
"Please take good care of Daesung, the sunbae and dongsaeng that I adore," she told the audience.
The singer ended the show with a performance of "Go Away." Daesung then stepped onto the stage and join Dara in singing. The audience goes wild while singing along with the idols. Dara also shared on Twitter a selfie her with Daesung.
"I've missed you so much. Soldier Kang Daesung is looking all manly and great during the Let's Win Festival. Let's win!" Dara captioned the photo.
Daesung began his enlistment in March along with bandmate Taeyang. The former is currently serving at the 27th Division recruit training center while Taeyang is at the 5th Artillery Division. Both of them are scheduled to be discharged in November 2019.
BIGBANG member G-Dragon also started his training earlier this year at the 3rd Infantry Division in Gangwon province. He will be discharged in October 2019. T.O.P, on the other hand, has been enlisted in February 2017. However, his expected discharge date has been delayed to June 2019 after he got convicted for marijuana usage.
Daesung and Taeyang recently had a mini-reunion with bandmate Seungri when the latter had a special appearance at the 2018 Ground Forces Festival in Gyeryong. The trio took the stage and sang together BIGBANG hit singles "Bang Bang Bang" and "Fantastic Baby."
Meanwhile, Dara herself will have her own military training experience as she will appear in Real Men 300. Earlier this month, MBC released photos of Dara, MOMOLAND's JooE, Oh Ji Ho, actor Lee Jung Hyun, and BJ GAMST as they about to start their training at the Special Warfare Training School in Gwangju of Gyeonggi Province.
The group will be the next cast members of the next season of Real Men 300. MBC is currently airing the show's third season which was filmed in July at the Korea Army Academy in Yeongcheon. Season 3 stars BLACKPINK member Lisa, PENTAGON's Hongseok, actress Lee Yoo Bi, Ahn Hyun Soo, Kim Ho Young, Oh Yoon Ah, Kim Jae Hwa, Koyote's Shinji, and Jeon Somi's father Matthew Douma.
[Photos | Videos] 2018-10-14 Daesung with Dara (former 2NE1) at Igija Festival #igijafestival https://t.co/g1tYXinNGD click for more #빅뱅 #BBMusic #BIGBANG #대성 #DLite #Daesung #2NE1 #Dara - video by mushroomzeze pic.twitter.com/1uXEDTdURe — BIGBANG 빅뱅 music (@_BBmusic) October 14, 2018
© 2023 Korea Portal, All rights reserved. Do not reproduce without permission.