'Where Stars Land' Episodes 15 & 16 Spoilers: Han Yeo Reum & Lee Soo Yeon Share A Kiss; Soo Yeon Meets His Rival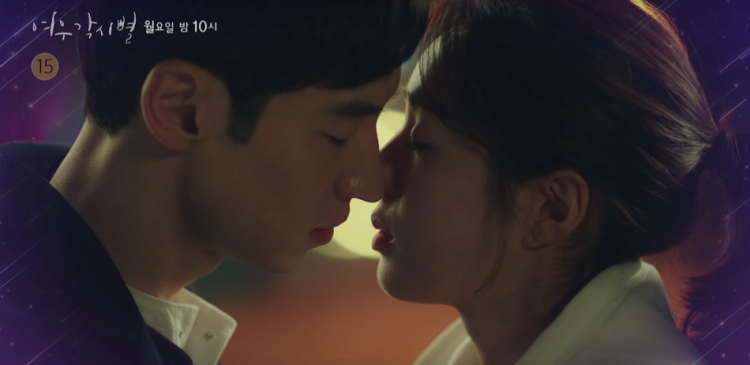 The much-awaited intimate moment between lead characters Han Yeo Reum and Lee Soo Yeon may finally happen in next week's Where Stars Land Episodes 15 and 16. It looks like things will get better between the two but not with Soo Yeon and Yeo Reum's friend Ko Eun Sub.
There is a love triangle brewing in SBS drama Where Stars Land. In the upcoming episodes, Eun Sub (SF9 member Rowoon) will have an awkward encounter with Yeo Reum (Chae Soo Bin) and Soo Yeon (Lee Je Hoon) on the way to work. This is the first time the two men will ever meet.
It is not clear in the teaser if the gentlemen will exchange a handshake. In one still image for Episodes 15 and 16, it looks like Eun Sub will extend his hand, and Soo Yeon will do the same, thinking Yeo Reum's friend wants to shake his hand. Instead, Eun Sub grabs Yeo Reum's hand and drags her while leaving Soo Yeon behind.
Eun Sub's cold treatment of Soo Yeon is expected after he heard the rumor that the latter and his close friend Yeo Reum are dating and had spent the night together. Eun Sub earlier confessed to Yeo Reum that he likes her, but the latter did not take it seriously.
The sneak peek also revealed Soo Yeon having a fist fight with three unidentified men. The teaser suggests that Soo Yeon will try to save someone who is being beaten up by the three men. Soo Yeon is also seen breaking a fight between two passengers at the airport.
Finally, the much-anticipated kiss between the lead characters. Soo Yeon is seen leaning on Yeo Reum, and his lips are about to touch hers.
It is also expected in the upcoming episodes that Na Young Joo (Lee Soo Kyung) will finally meet her new housemate, Yeo Reum. Another awkward moment in next week's episodes as the two recently had a bad exchange of words after Yeo Reum accused Young Joo of spreading a rumor about her and Soo Yeon.
In Where Stars Land Episodes 15 and 16, Yeo Reum is also expected to ask Soo Yeon more about her father and how he knows him. This week, Soo Yeon told a phrase about coincidence to Yeo Reum when she admitted to him that she is embarrassed of herself. The phrase shocked Yeo Reum as it is very familiar to her. She asked Soo Yeon if he knows her father and he said yes.
It looks like the man who saved teenage Soo Yeon when he tried to kill himself is Yeo Reum's father. He is also the owner of a small noodle house where Soo Yeo and Seo In Woo (Lee Dong Gun) used to eat when they were younger.
Meanwhile, Where Stars Land was able to maintain its high ratings despite a one night only airing this week due to KBO League's third semi playoff game on Monday. Where Stars Land Episode 15 and 16 will air on Monday at 10 p.m. KST on SBS.
© 2019 Korea Portal, All rights reserved. Do not reproduce without permission.