'Outlander' Season 4 Official Poster Teases New Danger On Fraser Couple & A New Look Of Jamie & Claire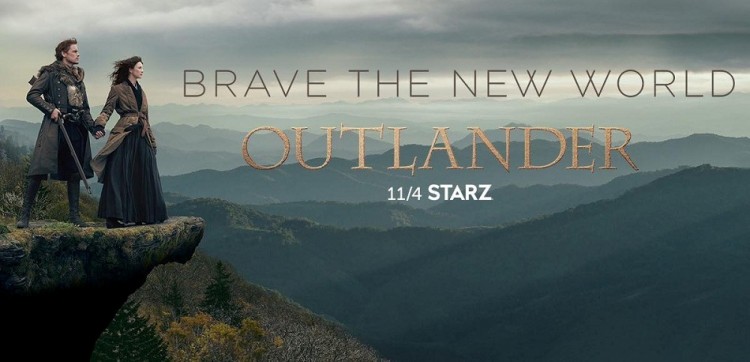 It looks like Jamie will be hanging his kilt and sword for the meantime as he and Claire will explore the American colonies in the upcoming Outlander Season 4. Starz released the first official poster for the fourth installment and it suggests more danger is coming on the couple's way.
The brand new poster quenched the Droughtlander at least for now and it also offers a lot of things to chew about the upcoming season. For one, it suggests a new look of the Fraser couple. The image shows Claire (Caitriona Balfe) and Jamie (Sam Heughan) holding hands and standing at the edge of a mountain cliff while overlooking the land.
Claire is wearing a belted blazer while Jamie is clad in a brass-button overcoat and fur scarf. Starz previously released some behind-the-scenes photos showing Balfe and Heughan also wearing the same wardrobe style.
Another noticeable item in the couple's photo is the rifle in Jamie's hand while the phrase "Brave the new world" is written in the poster in bold letters. Both suggest that the couple may be starting a new life in another continent but they are not letting their guards down of possible danger that they may encounter along the way.
Among the expected adversaries that Claire and Jamie will cross path with this season is Stephen Bonnet (Ed Speelers), an Irish pirate and smuggler. Outlander executive producer Matt B. Roberts describes him as "a pure psychopath." Heughan earlier teased what kind of danger Bonnet will bring to the Fraser couple.
"It's hard to top Black Jack (Tobias Menzies) but we have with Bonnet. Ed Speleers committed to this. People are going to hate him. He's so charming, so you kind of like him, but you find out later down the line that he does some really terrible things. He's a great new villain," Heughan said in an interview with The Hollywood Reporter.
Fortunately, Claire and Jamie will find a new ally in a world where they intend to plant their roots. She is Jamie's aunt, Jocasta Cameron, which will be portrayed by Orphan Black actress Maria Doyle Kennedy. Other new cast members include Billy Boyd (Gerald Forbes), Caitlin O'Ryan (Lizzie Wemyss), Natalie Simpson (Phaedre), Tim Downie (Governor William Tryon), and Simona Brown (Gayle). Season 4 will also have a non-human cast and that is Young Ian's dog named Rollo.
Outlander Season 4 will kick off on November 4 at 8/7c on Starz. It is based on Diana Gabaldon's novel, The Drums of Autumn. It mainly focuses on Claire and Jamie new adventures as they establish a new home in the American colonies.
© 2023 Korea Portal, All rights reserved. Do not reproduce without permission.