SEVENTEEN Ends Era With 'Heart'-Filled Performance Of 'Oh My' [WATCH]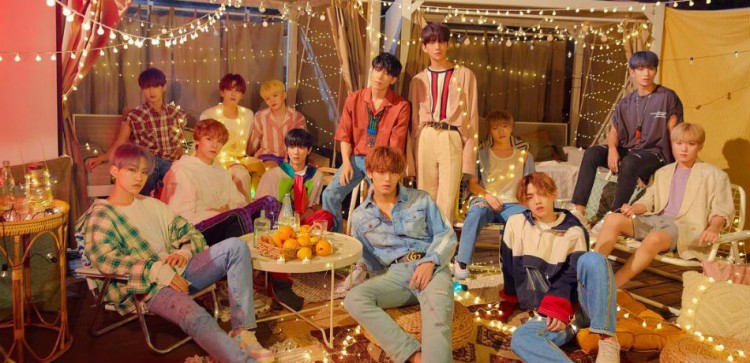 SEVENTEEN is gearing up for their upcoming world tour, which will begin later this month. But before they start a new chapter in their career, they have to say goodbye to an era. In a true SVT fashion, the boys showed their gratitude and love for their fans in the cutest and most creative way possible.
Carats (SEVENTEEN fandom) have been happy yet sad at the same time during their "Oh My" live performances as they weren't the same with Vernon not able to dance with his team members after his leg injury. Although the 20-year-old singer was allowed by Pledis Entertainment to sing his lines, he had to leave the stage during their complicated dance moves, which the group is famously known for.
While fans are appreciative that the label put Vernon's health first by not forcing him to dance with the rest of the boys, they entirely miss seeing him dancing with them. So when SEVENTEEN performed their latest hit song on "Show Music Core" and spotted Vernon on stage, they were overjoyed. Unfortunately, their two Chinese members, Jun and Minghao (The8), were not present at the time because they had some scheduled engagements in China.
However, S.Coups, Jeonghan, Joshua, Jun, Hoshi, Wonwoo, Woozi, DK, Mingyu, The8, Seungkwan, Vernon, and Dino didn't want to end the era without giving their fans a performance with all of them on stage. So on August 5, SEVENTEEN made sure that they will close this chapter by performing "Oh My" with all 13 members.
Vernon was dancing, Jun and The8 were present too. As if that wasn't enough, the boys have been throwing out finger hearts every chance they get. They would change most of their choreography to send love to their Carats.
As expected, fans understood what the sign was all about without them saying a word. While some are sad that this era had ended, they couldn't wait for what's in store for them in the upcoming world tour of SEVENTEEN.
"Is this the goodbye stage? Because there's a lot of hearts," one fan commented. "Goodbye stage bye byeeee rest well and good luck on the upcoming tour!!!!" one fan wrote.
© 2019 Korea Portal, All rights reserved. Do not reproduce without permission.