SEVENTEEN Mingyu & The8 Might Be Ready To Leave K-Pop Boy Band To Focus On Different Career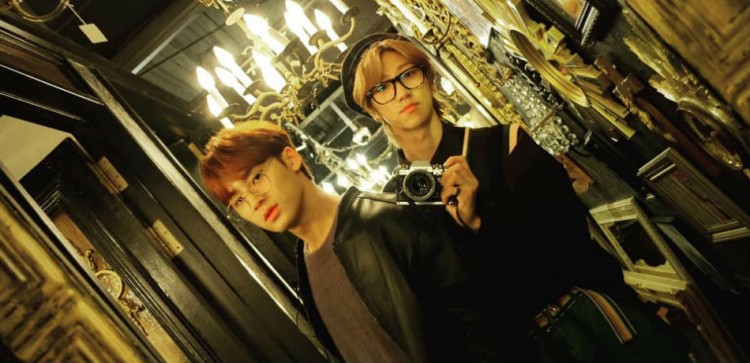 SEVENTEEN may still be considered a relatively new group in the K-pop world, but the 13-member boy band is slowly making their way to the top. While doing so, some of the members have explored other things along the way. Despite their hectic schedule, Mingyu and The8 have squeezed another talent that they're good at.
Mingyu (Kim Mingyu) and The8 (Xu Ming Hao) have bonded not only because they're in the same group but also because of their love for art. The SEVENTEEN stars are the first two members who created their personal Instagram accounts, and that's where they share their incredible artistry.
Mingyu and The8 even became each other's photographers as some of their posts clearly showed that they were in the same location. A behind-the-scenes snap even captured Mingyu taking The8's photograph, which the latter shared on his account. Also, the boys proved their love for art by sharing a couple of paintings on social media.
Now, Mingyu and The8's paintings will be featured in SEVENTEEN's exhibition "17's CUT." This event is a part of the Pledis Entertainment boy group's third anniversary in the industry.
The exhibition will take place from May 26th to June 3rd, and it will include "KIM MIN GYU & XUMING HAO: PRESENT." The Seoul Story, a Singapore-based Korean Events, Entertainment & Lifestyle news site, took to Twitter to share the exciting news.
"We love friendship & aspiring photographers!" The Seoul Story tweeted. "SEVENTEEN Mingyu and THE8 who have been interested in arts & paintings to unveil 'Kim Min Gyu & XUMING HAO 展 : PRESENT' at SEVENTEEN's upcoming exhibition specially for CARATs."
Mingyu's painting that will be featured in the exhibition is called "Growing Pains." It is the very first one that the SEVENTEEN singer ever worked on. It has two heads, with one seemingly yelling at the other.
The8's painting, on the other hand, is more simple than Mingyu's. The member of SEVENTEEN's performance team names his colorful piece "Heart."
#SEVENTEEN will show #Mingyu #THE8 paintings at their upcoming exhibition '17's CUT'
"KIM MIN GYU & XUMING HAO 展 : PRESENT" https://t.co/Af4y4HAUmJ #KoreanUpdates VF pic.twitter.com/Ck8fW7zhHH — KoreanUpdates! (@KoreanUpdates) May 24, 2018
Although Mingyu and The8's talent could very well make them professional painters, the boys' main passion had always been performing for the fans. SEVENTEEN has already garnered a lot of supporters, but the group is also considered as an ultimate bias group wrecker.
A post shared by

The8

(@xuminghao_o) on Feb 19, 2018 at 5:52am PST
© 2019 Korea Portal, All rights reserved. Do not reproduce without permission.