'What's Wrong With Secretary Kim' Nears Double-Digit Rating, Park Seo Joon Promises Special Treat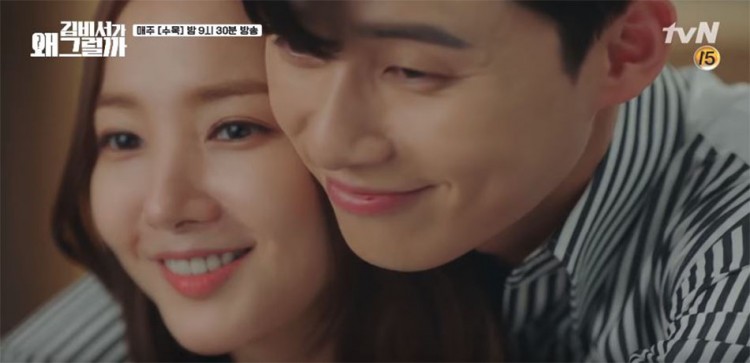 What's Wrong with Secretary Kim continues to captivate viewers with its storyline, as well as the amazing chemistry between its lead stars Park Min Young and Park Seo Joon. With the tvN drama poised to reach the coveted 10 percent rating, lucky fans might soon find themselves the recipient of a special gift.
Park Seo Joon and Park Min Young's romantic comedy series What's Wrong with Secretary Kim recently bested its own viewership record. The drama's eleventh episode that aired on July 11 posted an average nationwide rating of 8.7 percent, according to Nielsen Korea. At its peak, the episode garnered an impressive viewership share of 9.8 percent.
The said episode also surpassed the drama's earlier record-high viewership rating. Released on July 5, the viewership share for What's Wrong with Secretary Kim Episode 10 rose to 8.40 percent which is 0.636 percentage points higher than the drama's previous episode.
Apart from besting its own rating record, What's Wrong with Secretary Kim also retained its title as the "most buzzworthy drama." For the fifth week in a row, the romantic comedy series topped Good Data Corporation's "most buzzworthy drama" list with a score of 20.86 percent.
With the tvN drama enjoying immense popularity among fans as evidenced by its rising viewership shares, What's Wrong with Secretary Kim might soon hit the coveted 10 percent mark. The said scenario is a highly anticipated achievement among avid fans who are hoping to meet Park Seo Joon in person. In an earlier interview, the actor promised to gift a random group of office workers with a special coffee treat.
The Fight For My Way actor made the rating promise during the What's Wrong with Secretary Kim press conference. Held in late May, Park Seo Joon announced that he would treat lucky fans with a cup of coffee if ratings exceed 10 percent. Park Min Young and Lee Tae Hwan also promised to join the said activity with the Healer actress personally preparing slices of toasted bread for lucky fans and the W star serving the cups of coffee.
What's Wrong with Secretary Kim airs every Wednesday and Thursday on tvN. The drama is set to end its 16-episode run on July 26.
© 2023 Korea Portal, All rights reserved. Do not reproduce without permission.