'What's Wrong With Secretary Kim' Spoilers: Mi So's Spider Trauma Explained, Little Girl's Kidnapping Not True?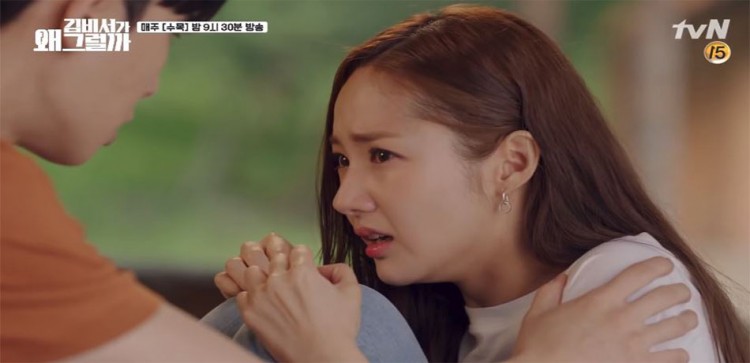 Secrets of the past will soon change present day relationships in the upcoming episodes of What's Wrong with Secretary Kim. Latest spoiler news teased of the dark truth behind Young Joon's (Park Seo Joon) and Mi So's (Park Min Young) kidnapping.
Young Joon and Mi So's kidnapping experience when they were young have been one of the plot mysteries in What's Wrong with Secretary Kim. Recent episodes of the tvN drama provided more information about the horrific event that left Young Joon with ligature marks on his ankles and Mi So with an inexplicable fear of spiders.
However, What's Wrong with Secretary Kim Episode 10 provided viewers with a vital clue as to why Mi So developed arachnophobia. Aired on July 5, the said episode featured a flashback scene that showed a young Mi So witnessing the death of a mysterious woman who hanged herself inside a room. Given her distraught reaction, the young Young Joon told Mi So that what she saw was a huge spider hanging from the ceiling instead of the deceased woman.
It appears that Mi So's supposed kidnapping did not happen in What's Wrong with Secretary Kim. Given the said secretary's flashback, viewers learned that the woman who might have abducted Young Joon might be related to Mi So as her guardian.
Latest What's Wrong with Secretary Kim plot speculations hinted of the mysterious woman's potential link to Young Joon's father, as well as Mi So's dad. Young Joon's abductor might have had an affair with the Lee family's patriarch that eventually led to a break-up. Heartbroken over the separation, the mysterious woman might have kidnapped her former lover's son to seek revenge.
Meanwhile, the said woman might have also looked after the young Mi So while the child's musician father was busy with his performances and projects. The speculated What's Wrong with Secretary Kim scenario would explain why Mi So was also in the same house where Young Joon was held captive. Moreover, it would support Mi So's sisters' earlier revelation that she did not get lost when she was a child.
At this time, it is still unclear whether the said speculated plot development would happen in upcoming What's Wrong with Secretary Kim episodes. Avid fans will have to look forward to spoiler news to learn more.
What's Wrong with Secretary Kim Episode 11 will be released on July 11. The drama airs every Wednesday and Thursday on tvN.
© 2023 Korea Portal, All rights reserved. Do not reproduce without permission.