Thai Soccer Team Trapped In Cave Might Be Stuck For '3 To 4 Months'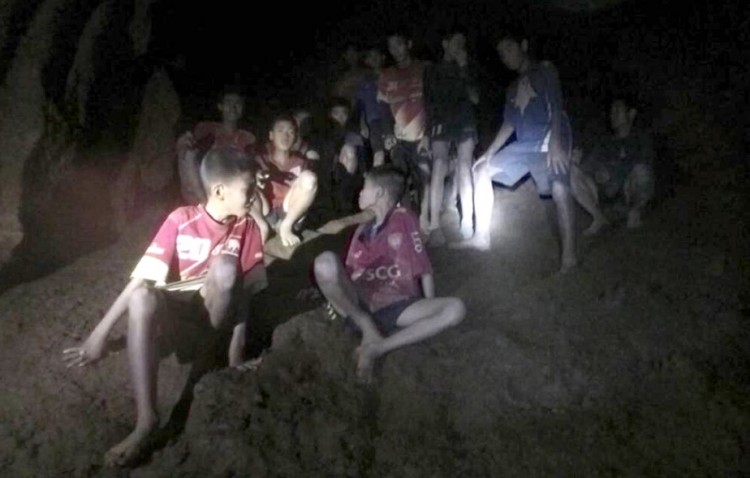 The young Thai soccer team that has gone missing more than a week ago has finally been found. Unfortunately, the teenagers and their coach have more trouble to face. The rescuers claim that although the boys are safe, it will take "up to three to four months" before they can be safely extracted from the cave.
The 12 boys and their coach went missing on June 23 when they decided to visit the Tham Luang Nang Non caves in Chiang Rai after a soccer game. The complex six-mile labyrinth in the cave system was quickly flooded with rainwater, forcing the team to go deeper into the cave. Although they have been found, the rescuers discovered that the teenagers are weak from starvation. In addition to that, none of them know how to swim.
The only way out of the cave is to swim back to the surface. This would mean that the soccer team will need to be taught how to swim and allowed to gain enough strength. Ben Reymenants, the diving instructor who is assisting with the rescue, says that the team will not be able to leave for "up to three to four months."
The rescuers are doing their best to avoid having to make the boys swim their way out of the cave. Water has been pumped out of the cave, but people are also concerned because of weather forecasts predicting more rain for the rest of the week. Nevertheless, the rescuers are refusing to give up on the soccer team.
"The water level in the cave is still very high, so we have to teach them how to swim to come out from there," Narongsak Osottanakorn said. The provincial governor added, "We will give them diver masks, but only the rescue teams can decide whether they can be brought out safely in this way."
For now, people can rest assured that the soccer team and their coach are all safe. They have been provided with all the medical supplies they require along with food and energy supplements. In addition to that, two Thai Navy doctors have volunteered to stay with the group to monitor their health and guarantee their safety until they are all strong enough to swim out of the cave.
© 2023 Korea Portal, All rights reserved. Do not reproduce without permission.