Korea International Noodle Expo 2018 To Feature North Korea Food, Music, & More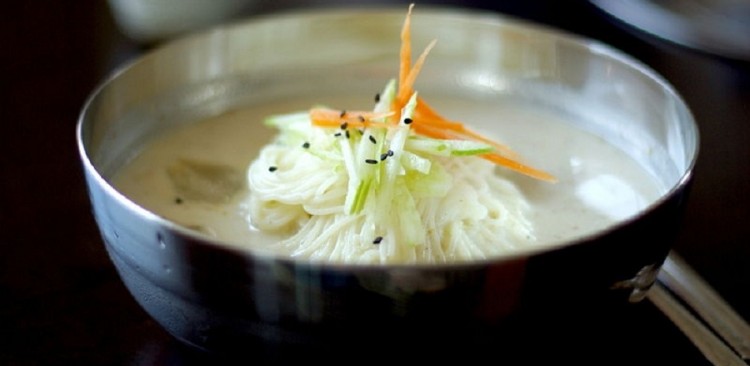 South Korea is committed to keeping peace with North Korea. In its latest effort to maintain the warm relationship with Kim Jong Un's nation, the Korea International Noodle Expo 2018 will feature some of the products from the North.
The exhibit is the South's biggest celebration of instant noodles. KBS Media, the host of the expo, has announced that it will create an exclusive zone for North Korean products.
The zone will be called Okryugwan, the name of the famous noodle restaurant in the North. It will showcase ramen from the hermit nation as well as other food items such as bean-based vegetarian meat, tofu-rice, and pongpong-ee ddeok, a rice cake substitute made with corn flour.
Those who will go to the expo can also buy snacks from the North, but it will be sold in limited numbers. Also, some grocery items, clothes, photographs, and music will also be available in North Korea's zone.
In the past years, the expo gave visitors a chance to try different varieties of instant ramen products from all over the globe. This year, the expo also aims to break the preconception that instant ramen is unhealthy.
At least 15 companies that make noodles using at least 50 percent domestic raw ingredients will be joining the event. Exhibitors will also share the latest trends with one of the most popular foods in the world: noodles. The Korea International Noodle Expo 2018 will run from June 8 to June 10 at the Coex Hall C in Samseong-dong in Gangnam, Seoul.
Undeniably, noodle consumption in Korea continues to grow. According to a 2015 research conducted by the World Instant Noodles Association, a person in Korea consumes an average of 72.8 instant ramens a year, making it the highest among countries followed by 51.9 average consumption in Indonesia.
The once alternative meal to feed citizens during the Korean War in the 50s is now replacing rice as the primary food on the dining table. But apparently, the dietary pattern of Koreans has not changed. A large number of noodle consumers in the nation only grew older.
South China Morning Post quoted Professor Joo Young-ha of Folklore Studies at the Academy of Korean Studies as saying that the primary consumers of noodles in the country are those who were born in the 1970s, the time when the nation first saw the rise of noodles. These consumers are now in their 40s, and they remain as the main consumers of various noodle-based foods.
Korea's staple food, rice, is still as equally crucial to the South Koreans diet. It has its own exhibit, the Rice Expo 2018, which is slated on November 28 to December 1 in Seoul.
© 2020 Korea Portal, All rights reserved. Do not reproduce without permission.