'What's Wrong With Secretary Kim' Tops 'Are You Human Too,' Netizens Prefer Park Seo Joon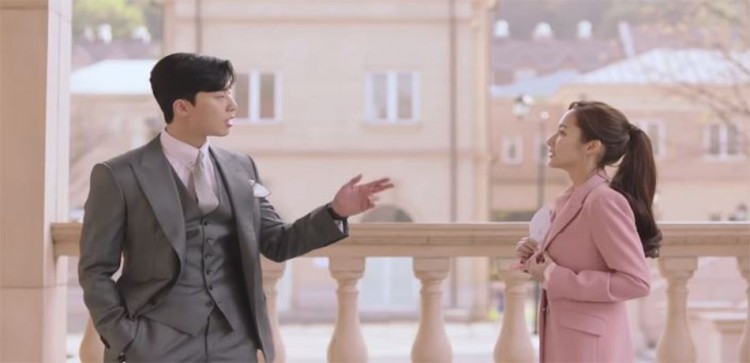 Several K-dramas such as What's Wrong with Secretary Kim and Are You Human Too have been vying for the top spot in various charts measuring viewer share and online popularity. However, the Park Seo Joon starrer recently became a popular topic among netizens as evidenced by a new list.
What's Wrong with Secretary Kim nabbed the top spot on the latest most buzzworthy drama list that covered the week of June 11 until June 17. Released by Good Data Corporation on June 18, the said chart ranks the most talked about South Korean series by netizens in various blogs and social media platforms.
The Park Seo Joon drama even achieved a higher percentage than its premiere week ratings on Good Data's list. Holding its number one spot for the second week-in-a-row, What's Wrong with Secretary Kim posted a score of 23.44 percent.
Moreover, What's Wrong with Secretary Kim was the only drama that broke through the coveted double-digit ratings on the said list. For the week of June 11 until June 17, the scores of other competitor series ranged from 3 percent to 9 percent.
Apart from Park Seo Joon's tvN drama, another series that ranked high on Good Data's list is the KBS sci-fi romance Are You Human Too. With Seo Kang Joon playing dual roles in the said production, the drama landed at second place with 9.82 percent. At third place is the South Korean remake of the US series Suits with 9.32 percent, while Lawless Lawyer and Miss Hammurabi came in at fourth and fifth place with 7.46 percent and 6.26 percent, respectively.
The bottom half of Good Data's top ten most buzzworthy drama list also included the OCN drama Life on Mars at sixth place with 5.2 percent and Wok of Love at seventh place with 4.58 percent. About Time landed at number eight with 4.19 percent, Mysterious Personal Shopper ranked at number nine with a score of 4.15 percent while the MBC series Come and Hug Me grabbed the tenth spot with 4.15 percent.
Meanwhile, avid fans of What's Wrong with Secretary Kim can look forward to a seeing a change in Young Joon (Park Seo Joon) and Mi So's (Park Min Young) relationship. Recently released teasers hinted of new sweet moments between the two characters. However, Mi So will feel uncomfortable with her boss' romantic yet grand gestures.
What's Wrong with Secretary Kim Episode 5 will be released on June 20. The drama airs every Wednesday and Thursday on tvN.
© 2019 Korea Portal, All rights reserved. Do not reproduce without permission.