Park Seo Joon, Park Min Young Drama 'What's Wrong With Secretary Kim' Records Strong Ratings Amidst Plagiarism Claims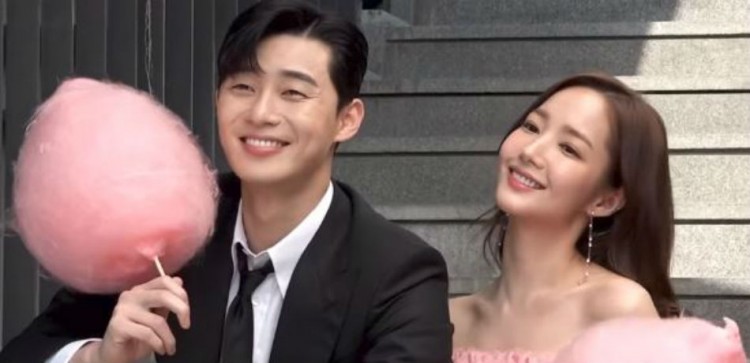 What's Wrong with Secretary Kim had a successful premiere with the tvN drama's first episode posting impressive ratings. However, the happy news was overshadowed by recent reports that accused the Park Seo Joon and Park Min Young starrer of plagiarizing a Glamour magazine photo shoot.
Prior to the release of What's Wrong with Secretary Kim, tvN unveiled several online posters to promote the drama. One of these posters showed Park Seo Joon and Park Min Young sitting on the stairs with the two South Korean celebrities each holding a large pink cotton candy.
With the said poster's close resemblance to an old Glamour magazine photo shoot that featured the Deadpool star Ryan Reynolds and Kate Hudson in similar poses, some critics claimed that the Park Seo Joon drama plagiarized the said magazine. Despite the explanation provided by tvN, several netizens expressed disappointment in the cable network's response, according to AllKpop.
Describing the said What's Wrong with Secretary Kim online poster as a homage to the Ryan Reynold's photo shoot, tvN explained they only used it as a reference material to help create promotional materials for the drama. However, some netizens disagreed with the South Korean network given how the said online poster nearly copied all the elements of the original Glamour photoshoot such as the wardrobe color theme, cotton candy props, and similar stairway setting.
Meanwhile, amidst the online poster plagiarism accusations, the tvN drama still recorded strong ratings. What's Wrong with Secretary Kim episode 1 posted average viewership shares of 7.44 percent, according to data from real-time viewership rating research firm ATAM. The climactic ending to the first episode of Park Seo Joon and Park Min Young's drama even reached a record-high rating of 10.3 percent.
Moreover, data from Nielsen Korea also showed the tvN drama reaching nationwide viewership ratings of 5.757 percent. Released on June 6, the premiere episode of What's Wrong with Secretary Kim even posted ratings of 6.446 percent across Seoul's metropolitan area.
However, the Park Hyung Sik drama Suits still retained its top spot in the weekly rating race among Wednesday-Thursday South Korean primetime series. The recent episode of the said KBS drama reached nationwide ratings of 8.4 percent. Come and Hug Me dropped to the third spot with its latest two-parter episodes at 4.3 percent and 4.6 percent, while The Undateables landed at fourth place with 3.2 percent and 3.9 percent.
What's Wrong with Secretary Kim releases new episodes every Wednesday and Thursday on tvN. Suits, Come and Hug Me, as well as The Undateables also air on the same broadcast days on KBS, MBC, and SBS, respectively.
© 2019 Korea Portal, All rights reserved. Do not reproduce without permission.