Lee Min Ho 2018: There's One Thing Fans Didn't Like About Suzy Bae's Ex & Park Shin Hye's Kiss [WATCH]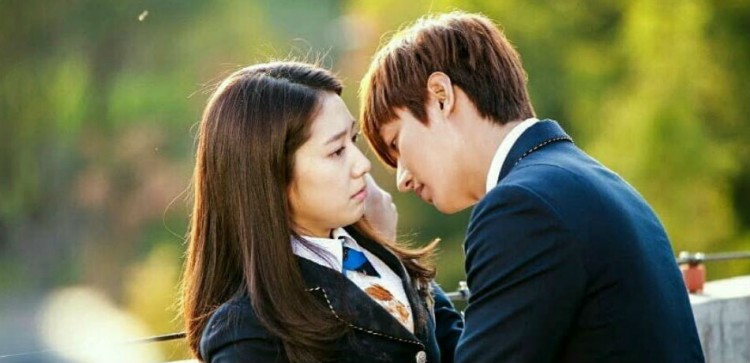 Lee Min Ho and Park Shin Hye have undeniable chemistry on and off the screen, which is why fans heavily shipped the pair during their team-up in The Heirs. Since the South Korean television series, also known as The Inheritors, was a huge hit, viewers loved every scene of the K-Drama. However, one particular scene didn't seem to convince one supporter.
The 30-year-old South Korean actor had a lot of leading ladies throughout his career, but Park Shin Hye is definitely one of the fans' favorites. Lee Min Ho and The Heirs actress didn't only work well together, but they looked good together as well.
Lee Min Ho and Park Shin Hye have so many romantic moments in The Heirs and one specific scene certainly made the hearts of the viewers skip a beat. The Legend Of The Blue Sea actor was told by the director to kiss his leading lady passionately, and he did exactly that.
As expected, Lee Min Ho and Park Shin Hye's kissing scene drove fans into a frenzy. However, one viewer didn't like the fact that the actress didn't know how to kiss Suzy Bae's ex back.
"Nah... I don't like them to be paired again [because] shin hye doesn't know how to kiss him back," the fan said. Some supporters agreed to the comment, but many defended Park Shin Hye. "If [you're] watching shin-hye's other dramas she [really] improved now, and I think it's not all about the kiss scenes it's the acting," another fan said.
As it turns out, Lee Min Ho and Park Shin Hye's kissing scene in The Heirs caught the actress off-guard, hence her reaction. The 28-year-old South Korean actress and singer previously opened up about her much-talked-about scene with the Boys Over Flowers actor.
"I was really surprised," Park Shin Hye admitted. "During that kiss scene, I grabbed Lee Min Ho's shirt."
Even Lee Min Ho felt bad that Park Shin Hye was startled by the kiss. However, he shared that the scene was meant to be done as it was needed in the story.
© 2020 Korea Portal, All rights reserved. Do not reproduce without permission.