Sandara Park 2018: Former 2NE1 Star Hides Friendship With Park Bom To Avoid Close Pal's Scandal?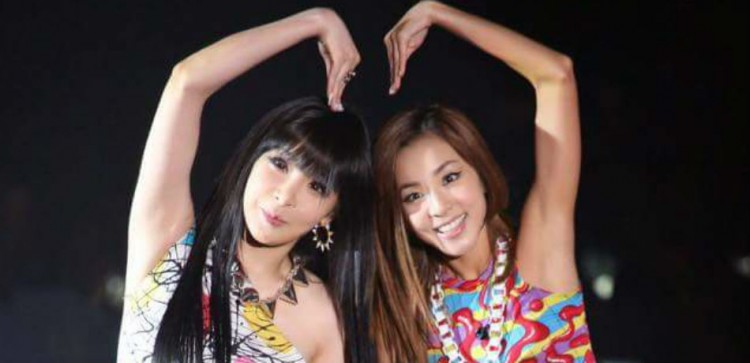 Sandara Park and Park Bom were dubbed as the "Park Sisters." Not only are the two close in age among the 2NE1 members, but the pair shares share the same humor that made them bond quickly. However, when the YG Entertainment girl group disbanded in 2016, there was nothing much said about Dara and Bom's friendship. Is Sandara Park hiding how close she still is to Park Bom to avoid being asked about the latter's scandal?
After the disbandment of 2NE1, YG Entertainment renewed the contract of Sandara Park and former 2NE1 member CL (Lee Chae-rin) as solar artists. Park Bom, on the other hand, was let go of by the company, mainly because of her drug controversy. Youngest member Minzy (Gong Min-ji) departed from the label in April 2016, months before YG Entertainment officially announced the disbandment of the popular girl group.
Although she was rumored to be jobless, Sandara Park is still very active in the entertainment industry. Since the 33-year-old South Korean singer, actress and television presenter started her career in the Philippines, she never ran out of projects in the country and in other neighboring countries as well.
Having multiple endorsement deals, Sandara Park had been invited to a lot of press conferences. Even though 2NE1 already disbanded a couple of years ago, questions about the YG Entertainment girl group are sometimes still being asked during Dara's promotional events.
In fact, Sandara Park was asked for an update about Park Bom's drug scandal during the press conference for the upcoming beauty variety show, Mimi Shop. A reporter told the singer, "I heard that you're in contact with Park Bom. Please let us know how she's doing in the midst of the recent issues."
Reports revealed that Sandara Park was so shaken by the question that she was uncomfortable for the rest of the event. Although a staff quickly settled things and informed everyone that they only accept queries relating to the show, Dara never recovered from it.
Despite being so close, Sandara Park and Park Bom are not seen together in public anymore. Many wonder if Dara may still be close to the controversial singer but being asked about the scandal was a traumatic experience for her that she wouldn't want to be in that position again.
© 2023 Korea Portal, All rights reserved. Do not reproduce without permission.