G-Dragon, Sandara Park Dating 2018: BIGBANG Star & 2NE1 Singer's Instagram Posts Seemingly Prove They're More Than Just Friends, Is Daragon Finally Official?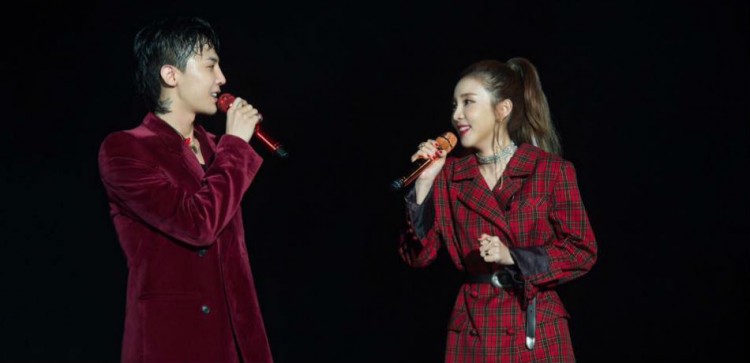 G-Dragon and Sandara Park have long been rumored to be more than just friends, and shippers even made a couple name for the pair, Daragon. Although the BIGBANG star and the former 2NE1 singer have already denied these speculations multiple times, fans are still convinced that there is something romantic going on between them and their social media posts seemingly prove the claims.
Before G-Dragon (Kwon Ji-yong) officially enlisted for his mandatory military service, the 29-year-old South Korean rapper, singer-songwriter, record producer, entrepreneur, and fashion icon had been very active on social media. The BIGBANG leader is known for sharing his love for fashion, the places that he went, and his activities on Instagram.
Just like G-Dragon, Dara (Sandara Park) is also using the platform to share her OOTDs (outfit of the day) and events, and this is how all the dating rumors ignited despite their denial. Fans who follow both YG Entertainment stars had noticed the huge similarities in their posts.
G-Dragon and Sandara Park can be seen wearing matching outfits although they are not together in the same photo. Although this could only mean that the BIGBANG singer and the 33-year-old South Korean singer, actress, and television presenter have the taste in fashion, fans believe that it's more than that.
There were also posts that showed G-Dragon and Sandara Park doing the same poses on their Instagram accounts. And sometimes the pair was even wearing a similar outfit, posing the same way, at the same exact location. While this could only be a coincidence, shippers feel that there is a secret meaning behind it.
Also, Sandara Park was spotted numerous times wearing clothes and accessories from G-Dragon's fashion line, PEACEMINUSONE. Although fans see it as a girlfriend promoting her boyfriend's products, all of the YG Entertainment artists are known for supporting each other's groups, concerts, and business ventures. It is also worth noting that YG Entertainment doesn't allow their talents to date each other.
For now, it is safe to say that G-Dragon and Sandara Park are just close friends, especially because their groups, BIGBANG and 2NE1, had collaborated before and they performed together during YG Entertainment's special events. Although Daragon is not official, fans still enjoy the thought that one day the singers might finally take their friendship to the next level.
© 2023 Korea Portal, All rights reserved. Do not reproduce without permission.