BTS V Recalls Crying While Filming 'Hwarang,' Jin, Suga, J-Hope, RM, Jimin, & Jungkook Said One Thing That Made Him Feel Better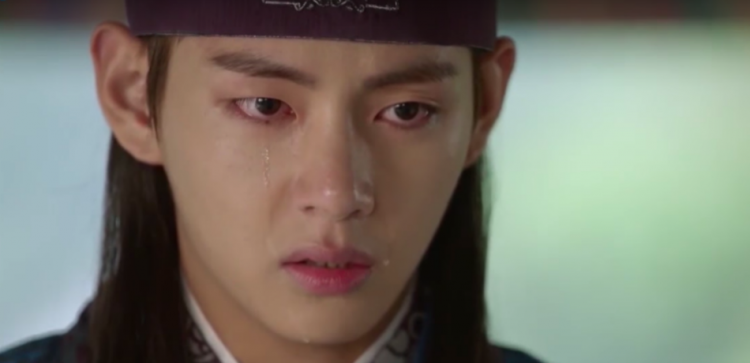 BTS's V is the very first member of the Big Hit Entertainment boy group who explored the world of acting. The singer was a part of the hit Korean television series, Hwarang: The Poet Warrior Youth, which was his first ever drama. Despite the huge success of the show, V revealed that it wasn't all rainbows and butterflies during the production.
Although it's nothing new for a K-pop idol to eventually try their luck in acting, the 22-year-old singer couldn't seem to shake off the pressure that he was feeling at the time. V revealed in a recent episode of BTS's YouTube Red series Burn the Stage that he had some hardships while preparing for his role in his first drama that aired from December 19, 2016, to February 21, 2017.
V (Kim Tae-hyung) shared that although he was very optimistic at first, the expectations of him to do good or fail in his acting career took a toll on him. The BTS star then started to second guess himself and lost his focus.
" 'Oh, is he in BTS? He's good at acting!' or 'He's in BTS? BTS kids really can't act.' These are the only two ways people could react. That put on a lot of pressure since then, and I thought I had to do well," V revealed. "At first I had a fighting attitude, and I said to my members 'I can do this, just believe in me!' but I was so nervous I forgot my lines and wasn't sure what to do."
V then went on to say that in the beginning, he chose to keep all his emotions to himself because he didn't want the other BTS members, Jin (Kim Seok-jin), Suga (Min Yoon-gi), J-Hope (Jung Ho-seok), Rap Monster (Kim Nam-joon), Jimin (Park Ji-min), and Jungkook (Jeon Jung-kook), see him all stressed out. However, it came to the point that his struggles were too much for him to handle, and he tearfully shared his problems with Jimin.
Now that he has finally learned to open up about his feelings, the BTS members then all sat down and talked to V about the situation that he was dealing with at the time. V then shared what his members told him that made him feel better: "They told me, 'We can't fix this for you, but we're here to give you support.' That comforted me so much."
© 2019 Korea Portal, All rights reserved. Do not reproduce without permission.