A Kiss Puts 'While You Were Sleeping' on Top of 'Hospital Ship' in Ratings Battle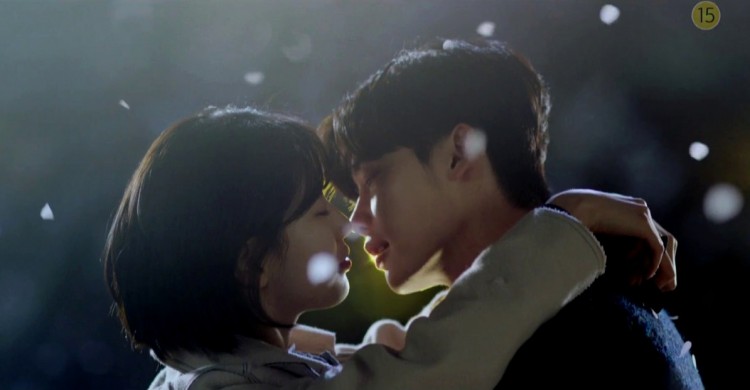 "Hospital Ship" has sunk beneath "While You Were Sleeping" in the ratings, ending the MBC drama's five-week run as number one in TV viewership numbers. "Hospital Ship" premiered on August 20 with double-digit scores on Nielsen Korea and has been beating the competing dramas on KBS and SBS until this week.
The medical drama remained strong even after SBS show "While You Were Sleeping" premiered on September 27 with impressive ratings of its own, as noted by this previous article. But this week, "While You Were Sleeping" had a big trump card to play: the show aired a much-anticipated kiss between the lead stars Suzy and Lee Jong Suk.
It's somehow gratifying that Korea still has the kind of television audience that will tune in for a kissing scene. In any case, the kiss brought in enough viewers for "While You Were Sleeping" to dethrone "Hospital Ship" from the top ranking.
Kdramapal reports that "While You Were Sleeping" pulled in 7.9% and 8.9% in nationwide audience share for episodes 7 and 8 respectively, according to the Nielsen Korea data for October 5. "Hospital Ship" achieved viewership ratings of 7.1% and 8.3%.
Both shows had a dip in audience numbers due to the Chuseok holiday, which ran from October 3 to 5. The very close margin suggest that "Hospital Ship" remains a formidable rival for "While You Were Sleeping," which may not be able to hold on to its lead.
Indeed, the SBS drama only managed to beat "Hospital Ship" on Thursday. On October 4, the MBC show was still the leader with scores of 5.6% and 6.6%. "While You Were Sleeping" did come very close on Wednesday with 5.1% and 6.1%.
The shows are remarkably different. "Hospital Ship" is a realistic workplace drama about doctors staffing a medical service vessel, notes Drama Beans. It stars Ha Ji Won as a surgeon and Kang Min Hyuk as a public health physician.
"While You Were Sleeping" is a supernatural tale with a strong central romance. Suzy plays a woman who has prophetic dreams that warn of misfortunes that will happen to various people. Lee Jong Suk plays a prosecutor who is her love interest.
"While You Were Sleeping" recently released a couple of OST tracks from Henry and Roy Kim. The songs are accompanied by the official "While You Were Sleeping" MVs that can be viewed at this article.
© 2018 Korea Portal, All rights reserved. Do not reproduce without permission.