Big Bang Members Accidentally Received G-Dragon's Text Message For A Girl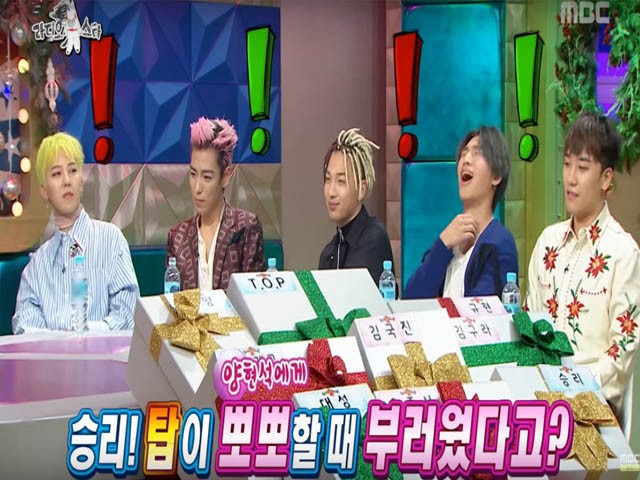 Kpop idol G-Dragon's sweet text message for a girl was accidentally sent to the four Big Bang members instead, the group revealed.
Big Bang members made a heyday of busting each other's secrets during their guest appearance Wednesday on MBC's "Radio Star."
Group leader G-Dragon seemed to have taken the biggest hit when his group members exposed the hilarious text mishap.
Youngest member Seungri revealed the content of the sweet text.
"Hyung said, 'I'm sorry you waited for so long. I was busy today and I couldn't even call or text. I'm sorry, I miss you,'" Koreaboo quoted Seungri as saying.
The members further made fun of the singer-songwriter and fashion icon when they revealed that G-Dragon sucks at his own dating life. This was meant to bust the myth surrounding G-Dragon's popularity as a "dating expert."
G-Dragon also poked fun at their main rapper when he let out that T.O.P. "cries often these days" and is losing weight as the upcoming military enlistment draws nearer.
Taeyang and Seungri shared their own confessions.
Balladeer Taeyang finally confessed the mysterious woman behind "Eyes, Nose, Lips."
Seungri, meanwhile, explained why he keeps 3,200 numbers on his phone.
Even YG founder Yang Hyun Suk didn't go unscathed as Big Bang revealed that he tricked them into appearing on "Radio Star."
"He said that he will appear and protect us from Kim Gu Ra," said G-Dragon, as reported by allkpop.
T.O.P. also added, "I said that if he comes, then we will gladly be on the show. Yang Hyun Suk said, 'Okay, I will be on the show for the first time. Let's do it together.' If you search online, there's a photo of me kissing him. That was me hearing him say those words and kissing him out of being moved. But after that kiss, I haven't seen him..."
© 2023 Korea Portal, All rights reserved. Do not reproduce without permission.
Tags:
G-Dragon
,
Bigbang G-Dragon
,
G-Dragon dating expert
,
G-Dragon girlfriend
,
G-Dragon love life
,
Big Bang
,
big bang comeback
,
Radio Star Big Bang
,
Radio Star
,
T.O.P.
,
BIGBANG T.O.P.
,
T.O.P. mandatory military conscription
,
T.O.P. military enlistment
,
T.O.P. cries often
,
T.O.P. losing weight
,
Taeyang
,
Taeyang and Min Hyo Rin
,
Taeyang Eyes Nose Lips
,
Seungri
,
Yang Hyun Suk
,
Yang Hyun Suk Big Bang
,
Yang Hyun Suk YG
,
YG
,
YG Entertainment