G-Dragon Sucks At His Own Dating Life, Reveals Big Bang Members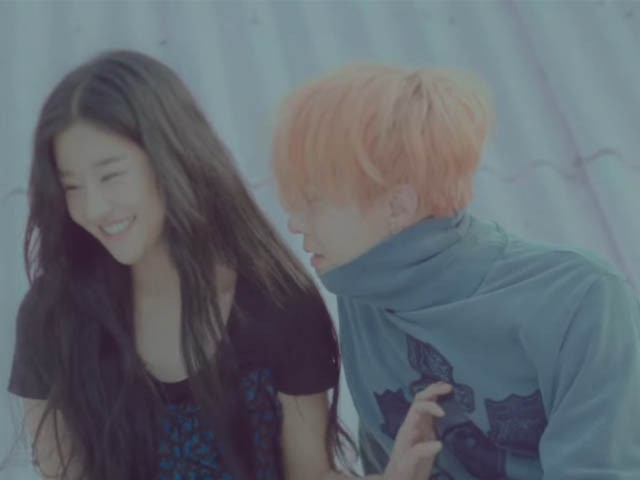 Big Bang members busted popular belief that their group leader G-Dragon is a dating expert and said that he actually sucks at it.
The four Big Bang members exposed the reality surrounding the idea that the 28-year-old rapper, singer-songwriter, record producer and fashion icon had it figured out when it comes to dating. In reality, the members said and teased G-Dragon's own dating life stinks.
"G-Dragon likes to give dating advice, but he is bad at his own dating life," Taeyang said during Big Bang's guest appearance Wednesday on MBC's "Radio Star," according to allkpop.
The balladeer, who admitted in the same show that he wrote "Eyes, Nose, Lips" for his girlfriend Min Hyo Rin, goes to G-Dragon for advice whenever the couple gets into arguments. G-Dragon confirmed this himself as he owned up that he played a part in bringing the couple together.
"He is good at giving dating tips, but they're not actually helpful. When I do as he says, my relationship gets worse," said Taeyang.
Seungri added, "His own dating life makes no sense. The reason Big Bang songs are sad is that G-Dragon's love life is a failure."
T.O.P. also said, "Honestly, there's no one who has a normal dating life in Big Bang."
G-Dragon finally defended himself and cried out, "I am extremely good at dating!"
He once appeared in SBS' "Hwa Shin" and talked about how he became a "dating expert."
"I changed like this because I was deeply hurt by love in the past," Soompi quoted G-Dragon as saying.
He described how he suffered in a one-sided love for two years that the show's MCs named his story "The Tragedy of the Birth of the Dating Expert, G-Dragon."
G-Dragon's current girlfriend is rumored to be Nana Komatsu, a 20-year-old Japanese model, and actress. The couple's intimate photos leaked after his private Instagram account was hacked September 18.
His alleged ex-girlfriend is another Japanese model, Kiko Mizuhara.
© 2023 Korea Portal, All rights reserved. Do not reproduce without permission.
Tags:
G-Dragon
,
Bigbang G-Dragon
,
G-Dragon dating expert
,
G-Dragon girlfriend
,
G-Dragon love life
,
Big Bang
,
big bang comeback
,
Radio Star
,
Radio Star Big Bang
,
Taeyang and Min Hyo Rin
,
Bigbang Taeyang
,
Taeyang love life
,
Taeyang girlfriend
,
Taeyang Eyes Nose Lips
,
T.O.P.
,
BIGBANG T.O.P.
,
Seungri
,
BIGBANG Seungri
,
Nana Komatsu
,
G-Dragon and Nana Komatsu
,
G-Dragon and Kiko Mizuhara
,
Kiko Mizuhara