Song Ji Hyo And Kim Jong Kook To Give Up "Running Man" Pay; Ji Hyo 'Cried Her Eyes Out'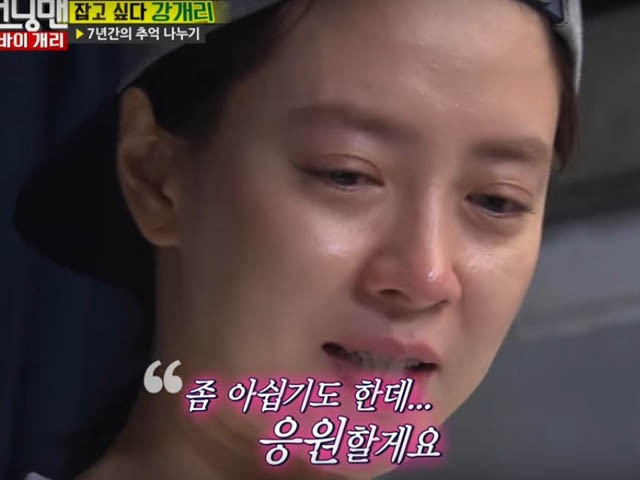 The controversy surrounding "Running Man" made actress Song Ji Hyo cry hard, prompting her and singer Kim Jong Kook to give up their salary from the show.
The past week might have been difficult for the entire cast and crew of the widely popular SBS' variety show "Running Man" but it appeared to be especially so for their only female cast member.
The 35-year-old actress' management label MY Company revealed how the "Emergency Couple" star coped with the ordeal.
"After she heard she would be leaving, she had a really hard time. She cut off all communications and just cried her eyes out," her label said in an interview with OSEN, as reported by allkpop.
They explained, "The members loved 'Running Man' a lot, and they were like family for the past 7 years. She was hurt deeply by what happened."
According to Soompi, an unnamed "Running Man" staff disclosed Monday that both Song Ji Hyo and Kim Jong Kook planned to donate their salary for their succeeding appearances following last week's controversy.
"They are looking into how and where they are going to donate," said the insider.
The show's fans were shocked when they woke Wednesday to the news that Song Ji Hyo and Kim Jong Kook decided to leave "Running Man" after seven years.
Things quickly became complicated, however, when both the stars' agencies confirmed that the members were canceled from the show and only learned about it at the last minute.
The show's producers issued an apology Thursday, particularly for the two stars involved.
The showrunners then called out an emergency meeting for the entire cast and crew the next day.
The result was to finally close "Running Man" by the end of February 2017, dropping the producers' original plan of a "Running Man Season 2" by January.
The emergency meeting also led Song Ji Hyo and Kim Jong Kook to stick around until the show's very end.
"The relationship with SBS is awkward right now but that's a problem with the SBS producers. She wants to do her duty and stay loyal to the members of Running Man," stated MY Company, according to Koreaboo. "She wishes to end things on a good note.
© 2023 Korea Portal, All rights reserved. Do not reproduce without permission.
Tags:
Song Ji Hyo
,
Kim Jong Kook
,
Running Man
,
running man latest news
,
Song Ji Hyo Kim Jong Kook Running Man
,
running man news
,
Running Man Song Ji Hyo
,
Running Man Kim Jong Kook
,
running man latest update
,
Running Man controversy
,
Running Man producers apologize
,
Running Man cast emergency meeting
,
Running Man Comes to an END