Yoo Jae Suk Opens Up About Not-So-Perfect Family Life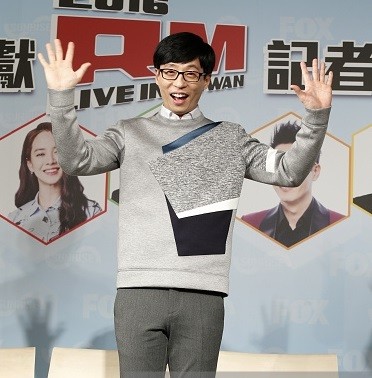 TV Host Yoo Jae Suk gave followers a rare peak on his far from perfect family life as he talked about his wife and only son.
He admitted Thursday on the KBS variety show "Happy Together" that he also argues with his wife.
"I do. [They occur] when I want to watch television but she asks me to do something," Soompi quoted Yoo Jae Suk as saying.
He also shared that his son may not be aware of his tremendous popularity. Yoo Jae Suk may be one of the most respected comedians and TV personalities in South Korea but the 44-year-old "National MC" revealed that his six-year-old child Ji Ho doesn't watch his shows.
"Ji Ho doesn't really talk about me that much," he answered when asked about the truth behind children bragging about their celebrity fathers.
He added, "First off, Ji Ho doesn't really watch the shows that I appear in. I think he does know that I am a celebrity, but since he doesn't watch my shows, I don't think he realizes that his dad is famous."
Yoo Jae Suk currently hosts KBS' "Happy Together Season 3," SBS' "Running Man" and MBC's "Infinite Challenge." He also hosted former programs since 2000 including "Family Outing" (2008-2010) and "New X-Man" (2003-2006) among many others.
"Running Man," the longest-running variety program in South Korea, is currently embroiled in controversy over the cancellation of two of its cast members Song Ji Hyo and Kim Jong Kook.
Rumors that the program may be canceled as a result also started to surface.
According to Soompi, an SBS representative revealed Friday that all the remaining cast members Yoo Jae Suk, Lee Kwang Soo, Haha, Ji Suk Jin as well as Song Ji Hyo and Kim Jong Kook held an emergency meeting with the show's production crew.
"They are having a discussion regarding their future course of action. There has not yet been anything decided about the show's direction," said the representative.
The show's producers publicly apologized and stated that the show will continue with its second season beginning next year.
© 2023 Korea Portal, All rights reserved. Do not reproduce without permission.
Tags:
Yoo Jae Suk
,
Yoo Jae Suk private life
,
Yoo Jae Suk son
,
Yoo Jake Suk wife
,
Yoo Jae Suk wife quarrels
,
Yoo Jae Suk Happy Together
,
Yoo Jae Suk Running Man
,
Song Ji Hyo Kim Jong Kook Running Man
,
running man latest news
,
running man latest update
,
running man news
,
Running Man controversy
,
Running Man producers apologize
,
Running Man cast emergency meeting
,
Song Ji Hyo
,
Running Man Song Ji Hyo
,
Kim Jong Kook
,
Running Man Kim Jong Kook