Go Champion Lee Sedol Praises The 'Concentration' Of Google's AlphaGo A.I. System Following His 4-1 Tournament Loss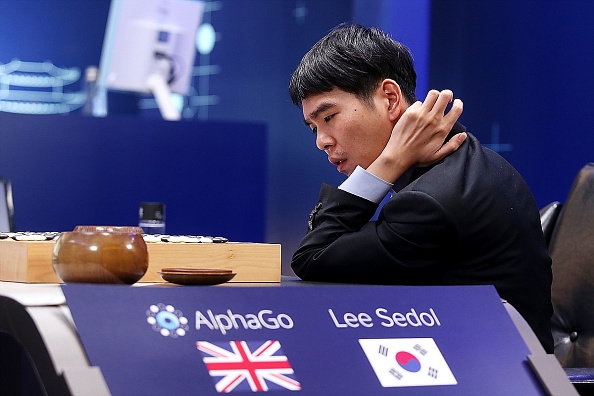 South Korean Lee Sedol, world champion of the Chinese abstract strategy board game Go, may have only won game in his best-of-five matchup against Google's artificial intelligence computer system AlphaGo this week, but he refused to admit the game is more skilled than himself or other top players.
"I can't accept that it has better playing skills, but it has a concentration level which humans can't beat easily," Lee told the Korea's Yonhap News Agency on Tuesday following his loss in game five.
"I think humans can't chase AlphaGo in terms of psychological aspects [of the game] and concentration."
The Go champion, ranked second in international titles only to Lee Chang Ho, took full responsibility for his loss in the final game, which despite not being able to change the outcome of the tournament, which included $1 million in prize money for the winner.
"I wanted to end the tournament with good results, but feel sad that I couldn't do it," Sedol told reporters.
"As I said before, this is not a loss for man, but a loss for me. This tournament really showed what my shortcomings are...at some point in the past, I doubted myself whether I was enjoying the game. But I enjoyed Go so much, playing against AlphaGo, this time."
Despite learning as he went along in his battle against Google's AlphaGo program, Lee believes the computer's ability to not be distracted with human emotions is an unconquerable advantage.
"It took some time to adjust to AlphaGo's playing style and the atmosphere of the game," Lee said. "But I doubt whether I can beat AlphaGo again in terms of the psychological aspects, as I see it concentrates till the end without getting shaken."
The professional Go player says the experience has even inspired him to rethink is training.
"This match raised doubts on Go and human creativity," he said. "By watching AlphaGo's sequences, it made me think whether our usual sequences are right. I need to study more on this."
© 2023 Korea Portal, All rights reserved. Do not reproduce without permission.