B-52 Bomber Overflight Serves As A 'Demonstration Of The Ironclad U.S. Commitment' To Ally South Korea After North Korea's Hydrogen Bomb Claim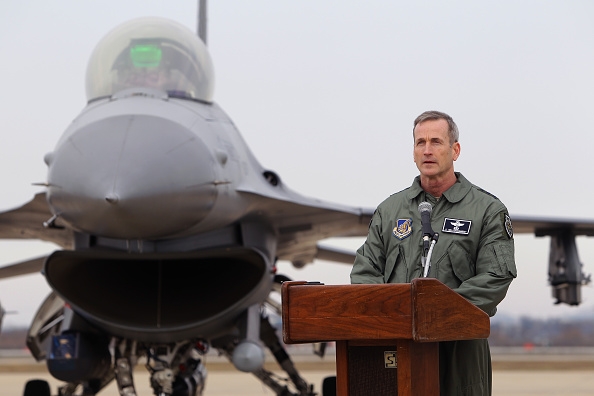 The United States flew B-52 bomber over South Korea as a display of their "ironclad" commitment to its ally country, South Korea, after North Korea claimed it has conducted a hydrogen test this week.
The B-52 bomber was seen in the skies over Osan, South Korea around Sunday noon after it left US Andersen Air Force Base in Guam, as per Yonhap News Agency Sunday. The bomber was reportedly equipped with nuclear missiles and "bunker buster" bombs that are competent of bombing the underground facilities of North Korea.
Reports have revealed that the bomber was flanked by South Korean F-15 and US F-16 fighters as it flew past the Osan air base. On the same day, the B-52 bomber returned to the US Andersen Air Force Base in Guam after the flight.
A military official said the act was a display of their firm commitment to South Korea as their ally.
"This was a demonstration of the ironclad US commitment to our allies in South Korea, in Japan, and to the defense of the American homeland," US Pacific Command Adm. Harry B. Harris, Jr. said in a dispatch.
"North Korea's nuclear test is a blatant violation of its international obligations. U.S. joint military forces in the Indo-Asia-Pacific will continue to work with all of our regional allies and partners to maintain stability and security."
NBC News forecasted Sunday that the same flight took place on Mar. 19, 2013, a month after North Korea conducted a nuclear test in 2013. On Wednesday, North Korea claimed it has conducted a "successful" hydrogen bomb test, which even resulted to a 5.1-magnitude man-made earthquake near the Sungjibaegam nuclear test site.
On the other hand, AP reported Friday that North Korean Supreme Leader Kim Jong Un reportedly said that their recent activity was "a self-defensive step" intended to protect the country "from danger of nuclear war caused by the US-led imperialists."
"It is the legitimate right of a sovereign state and a fair action that nobody can criticize," Kim was quoted saying as per state-run news agency KCNA.
© 2023 Korea Portal, All rights reserved. Do not reproduce without permission.