Animal Rights Activism Increases In South Korea Amid Traditional Meat Consumption and Cruel Treatment Toward Dogs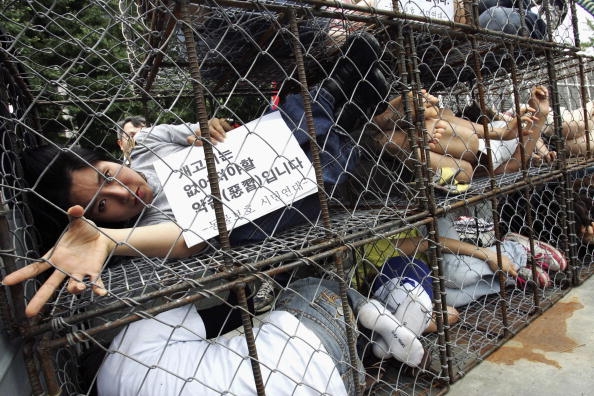 Nonprofit organization, Korean Animal Welfare Association, continues its advocacy to stop animal cruelty as it holds events that aim to raise the South Koreans' awareness on animal rights.
Organization head Jo Hee Kyung shares that their campaigns against dog meat consumption, which is especially rampant during the summer season, have been effective. She adds that their group has received good feedback.
"After we hold our awareness events, I've read in press reports of people's reactions. They've said they realize that they're not alone in their opposition to cruelty toward animals," says Jo, according to Washington-based United Press International on Tuesday. "Our campaigns give an opportunity to affirm their thoughts about dog meat consumption."
Jo has been an animal rights activist for 16 years. She has observed that many South Koreans are reacting positively on the organization's efforts to raise awareness about the matter.
Meanwhile, a veteran activist calls to end the cruel practice in South Korea. Lola Webber, campaign manager of Humane Society International, describes the conditions of animals in dog meat farms in Hongseong county as "very sad."
"The conditions were - they're just very, very sad," says Webber. "The dogs spend their entire lives in small, filthy, barren cages. They're born into them. And they don't leave them again until they're taken for slaughter."
She adds that over 2.5 million dogs are raised in the farms in Hongseong yearly, wherein the meat is sold to businesses.
Daily Mail reported on August 7, 2012 that South Koreans believe that dog meat consumption could help "beat the heat in the summer months," a statement slammed by animal rights activists.
In Defense of Animals (IDA) USA has released a statement, saying that "two and a half million South Korean dogs are electrocuted, hanged, or beaten to death each year."
"The dogs are slaughtered in unimaginable ways: electrocuted, hanged, and even beaten to death, because of the prevailing myth that the greater the suffering the more tender and tastier the meat, and that the mythical health properties are enhanced."
© 2021 Korea Portal, All rights reserved. Do not reproduce without permission.