Lia Apologizes For Supposed Colorist Remarks Towards Fellow ITZY Member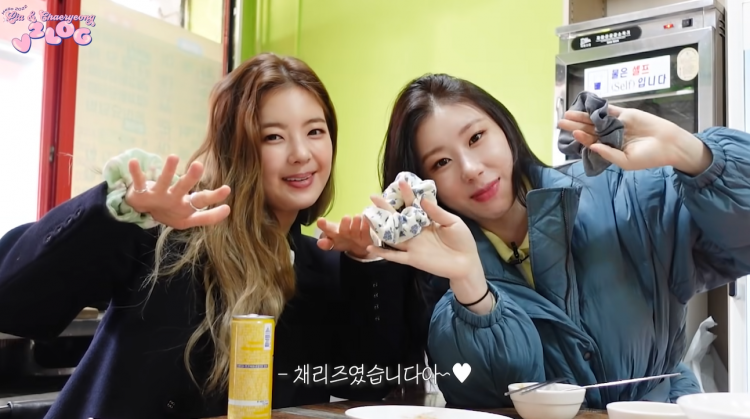 The members of JYP Entertainment's ITZY were featured on the July 19th episode of Kim Shin Young's "Noon Song of Hope."
ITZY at Kim Shinyoung Noon Song of Hope FM !! pic.twitter.com/wznKaqHkAw — timi ≷ (@itztimi_) July 19, 2022

READ: ITZY 'SNEAKERS' MV Stuns Fans & Surpasses TWICE With 'CHECKMATE' Pre-Orders
On the show, Chaeryeong shared that she considered getting a tan, revealing that she had wanted to tan since her pre-debut days. Yet, the ITZY member noted that Lia discouraged her to do it.
Chaeryeong revealed while laughing, "Yeah, but Lia was like, 'If you do, you're going to be neither fair nor sexy. You'll be kind of awkward, in the middle somewhere.' That's what she told me to my face."
Chaer: i thought about tanning before, lia unnie told me "if you really did, you might not look pale or either sexy, (since chaer mentioned before she is really hard to get tan,natural pale skin) you'll just be ambiguously in the middle"
Lia: chaer has her own atmosphere which(1) pic.twitter.com/BWtfupDxkG — 베어²¹² (@COZYxBEAR) July 19, 2022
Defending herself, Lia tried to explain her reasons. The ITZY main vocalist expressed that she tried to imply that she believes Chaeryeong is already very pretty.
"I said that because she's really prett- I meant that Chaeryeong is very fair-skinned, and it really maximizes the unique aura that she has as a person," ITZY's main vocalist noted.
Hearing this, Chaeryeong confirmed what Lia shared, noting that she appreciates what her fellow ITZY member expressed. Regardless, after netizens heard Lia's words, they began to accuse her of being a colorist. Although Lia defended herself, any type of colorism is not fine.
Following this, MIDZYs to ITZY's Lia via a video fanmeeting.
ITZY 220720 Soundwave Video Call
Lia from ITZY addresses the comments about Charyeong's skin color and apologizes:

"If that's what people understood I'm so sorry for that, it was my mistake, that was definitely not my intention." pic.twitter.com/5zWKxONCaA — n ♡ (@cutiesjisu) July 22, 2022
There, ITZY's Lia revealed that she was not aware of the controversy regarding her comments. She then noted that she was concerned when she found out about it. The K-Pop idol then clarified that she did not intend for her comments to be colorist.
READ: MIDZYs Upset At MBC After Mistreating ITZY's Lia Once Again, This Time On 'Music Core'
Moreover, Lia then sincerely apologized as she realized her comments could have hurt others. Adding to this, the ITZY member implied that she would self-reflect and educate herself, thanking her fans for letting her know of the issue.
© 2023 Korea Portal, All rights reserved. Do not reproduce without permission.
Tags:
kwave
,
kwave news
,
kwave updates
,
Kpop
,
kpop news
,
Kpop updates
,
JYP
,
JYP artists
,
JYP Entertainment
,
JYP Entertainment artists
,
JYP Entertainment ITZY
,
JYP Entertainment ITZY Lia
,
JYP Entertainment ITZY Chaeryeong
,
JYP Entertainment Lia
,
JYP Entertainment Chaeryeong
,
ITZY
,
ITZY News
,
ITZY updates
,
Noon Song of Hope ITZY
,
ITZY Noon Song of Hope
,
Noon Song of Hope
,
Noon Song of Hope news
,
Noon Song of Hope updates
,
Noon Song of Hope Kim Shin Young
,
Kim Shin Young Noon Song of Hope