The Dark Side Of K-Pop: TWICE Reveals How They Overcome The Hardships Of Fame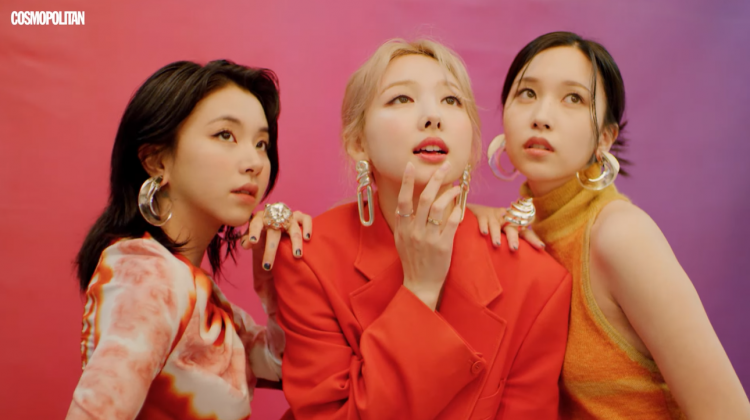 The members of TWICE were recently featured in an interview with Cosmopolitan. Among the points the girl group tackled, they went on to reveal dark sides they encountered regarding fame. They also shared how they overcome it as a unit.
Notably, Sana and Jeongyeon shared their worries regarding sasaengs, known as obsessive fans. Sana even revealed that she is now scared to carry her passport at airports. This is because a sasaeng might take photos of her personal information.
READ: ONCEs 'Dance the Night Away' As Jeongyeon Slyly Confirms TWICE's Contract Renewal
"I'm really worried about my personal information leaking, especially at the airports. When I'm showing my passport, sometimes people are taking pictures from above," TWICE's Sana noted.
As per Jeongyeon, she talked about how afraid of sasaengs getting ahold of her phone number. The TWICE member explained, "I get random calls these days on my cell phone. Sometimes I worry about that and how that happened."
For TWICE's Jihyo and Tzuyu, they discussed the hardships of an almost nonexistent balance between work and life.
TWICE's Jihyo shared, "I don't want to call it a downside of fame, but I have to say that we are just super busy right now and I don't have enough individual me-time. I would like to have a little bit more."
Tzuyu then supplemented her leader's claims by saying that while they are grateful for ONCEs, it is somewhat tiring to have a never-ending schedule. Though TWICE are mostly busy, the girls at least try to find a way to relax.
As per TWICE's Dahyun, "To relax while I'm touring, I eat. Our staff always prepares really healthy and delicious foods, so that's the most important part after the concerts. And personally, I take a bath and I nap. And sometimes I look up funny clips on YouTube."
Beyond eating, Mina and Momo also revealed that the members have each other's backs. Momo expounded that TWICE look after one another. Mina then added that her fellow TWICE members' support is the reason she can take on new experiences.
READ: Fans Are Not Happy WIth ITZY's Sudden Changes For Upcoming 'CHECKMATE' Comeback
Lastly, TWICE's Nayeon explained that TWICE moves forward due to the love and support that they have for one another. The "Pop!" singer revealed, "Because we work together, we experience similar hardships. But I learn from other members when they don't complain about those hardships. It even energizes me to watch other members do that."
© 2023 Korea Portal, All rights reserved. Do not reproduce without permission.
Tags:
kwave
,
kwave news
,
kwave updates
,
Kpop
,
kpop news
,
Kpop updates
,
JYP
,
JYP artists
,
JYP Entertainment
,
JYP Entertainment artists
,
JYP Entertainment news
,
JYP Entertainment updates
,
JYP Entertainment TWICE
,
TWICE
,
TWICE news
,
TWICE Updates
,
Cosmopolitan TWICE
,
Cosmopolitan
,
Cosmopolitan news
,
Cosmopolitan updates