Microsoft Teams Is Getting New Co-editing And Co-creation Features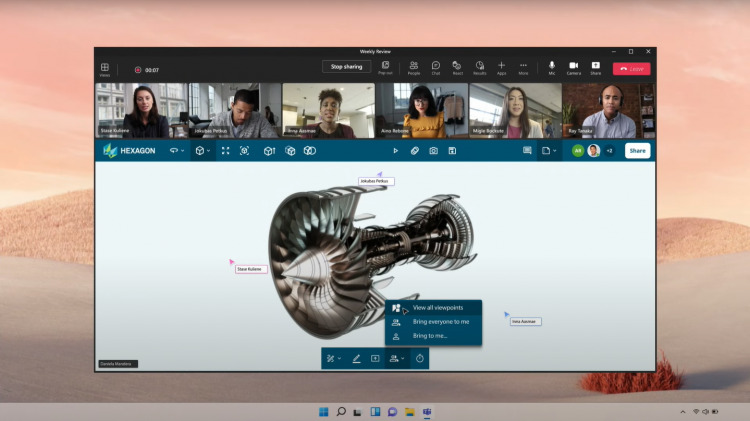 Microsoft is implementing a new Live Share feature to its cloud-based collaboration app Microsoft Teams. It will essentially allow participants to start co-editing or co-creating during Teams meetings. The feature will be available through apps that integrate Microsoft Teams, potentially allowing for more interactive meetings.
Several developers such as Frame.io, Hexagon, Skillsoft, MakeCode, Accenture, Parabol, and Breakthru are all currently testing possible apps that can utilize the new Live Share functionality. In particular, Hexagon even made an app prototype that works with Microsoft Team's Live Share. The prototype can let engineers zoom in, annotate, and edit 3D models in real-time as a Teams meeting is taking place.
READ: Microsoft's Upcoming Adaptive Mouse And Button Can Be Tweaked With 3D-printed Accessories
In addition, Microsoft also offers Whiteboard integration in Microsoft Teams and it comes with identical co-creation and co-editing features to Live Share. Microsoft Teams Live Share is powered using the company's Fluid Framework-designed to let developers build more shared and interactive services and apps on the web. Microsoft has also been using Fluid as part of its Loop components integration into Teams and Outlook.
Loop components let participants in a Teams chat to collaborate and make decisions together. For example, a component sent in chat (bulleted list, paragraph, table) can be edited by everyone in the chat and show changes as they are made instantaneously. They're saved automatically to your OneDrive and can be convenient for editing content like a company's mission statement or a new set of policies.
READ: Apple, Google, And Microsoft May Soon Implement Passwordless Sign-In Across Their Platforms
Soon, developers can begin creating their own customized Loop components. Existing Adaptive Cards will be able to develop into Loop components with the help of a developer preview that Microsoft says will start next month. With the consistent interest and support of developers, only time can reveal the potential of Loop component integration and how collaborative virtual meetings can really get.
© 2022 Korea Portal, All rights reserved. Do not reproduce without permission.