Microsoft's Upcoming Adaptive Mouse And Button Can Be Tweaked With 3D-printed Accessories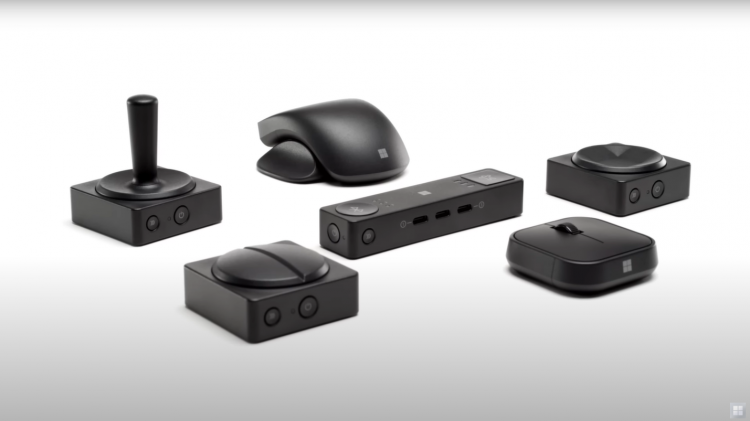 Microsoft revealed an array of adaptive devices that are meant to replace or tweak the regular keyboard and mice that people with disabilities can have difficulty using. The lineup features the Adaptive Mouse, Adaptive Buttons, and the Adaptive Hub.
Both the mouse and button were designed to support 3D-printed accessories, making them customizable to fulfill specific inputs for computers. "Almost every part of it you can swap so you create a set-up that is unique to you," says Gabi Michel, Director of Accessible Accessories for Microsoft Devices.
READ: Windows 11 Will Obtain New Touch Gestures, Start Menu Folders, And More
The Adaptive Mouse has a core shaped like a square puck that can be clipped into a "tail" which doubles as a palm rest. There's a thumb rest that you can swap around, allowing the mouse to be used with either your right or left hand. Customized 3D-printed tails can be designed to match specific needs such as attaching a comfortable joystick.
Meanwhile, the Adaptive Buttons allow users to input eight programmable inputs into a computer or phone. The button or switches can perform single keystrokes or bind more complicated keyboard shortcuts or macros. Just like the Adaptive Mouse, you can also add 3D-printed toppers or accessories to the buttons as needed for any activity.
READ: New Free iPad App Staybl Makes Using The Device Easier For People With Hand Tremors
Both devices are wireless, and you can connect up to four buttons to the Adaptive Hub that delivers the instructions to a linked computer or phone. The Hub provides several 3.5mm jacks for connecting wired accessories, such as the types designed by Logitech or Microsoft's Xbox adaptive controller (which can also directly connect to a PC).
According to Microsoft, the adaptive accessories will be launched in the fall, however, prices for the customizable devices haven't been revealed yet. Last year, the Surface Adaptive Kit was also released by the company, which was designed to make its existing input devices easier to use.
© 2022 Korea Portal, All rights reserved. Do not reproduce without permission.