'MORE & MORE' Interactions: TWICE Members Now Have Personal Instagram Accounts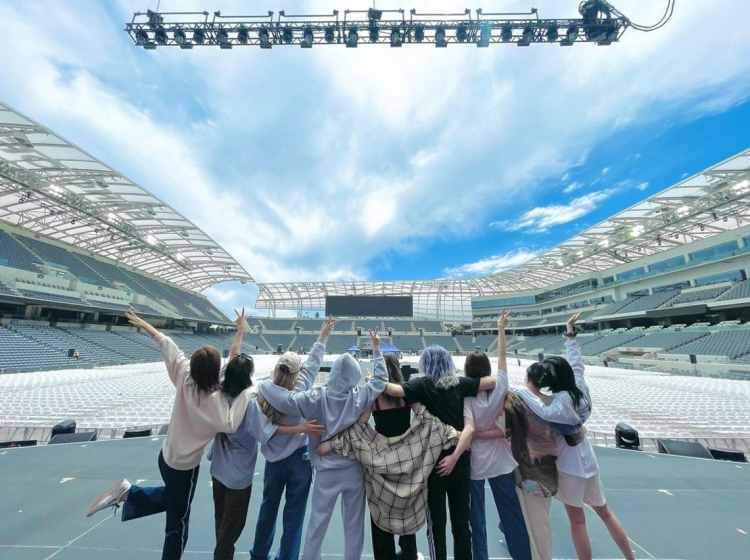 After almost 7 years of being active, the members of TWICE finally now have their personal Instagram accounts. ONCEs, TWICE's fandom, have been waiting for this for a long time and the day has finally arrived.
READ: NMIXX Honors Their Unnies As The JYP Rookies Covers TWICE's Hit 'What Is Love?'
To celebrate the special event, the members of TWICE uploaded the same picture as their first posts on Instagram. In the photos, TWICE were seen placing their arms around each other's shoulders, while their backs faced the camera during their concert in California Stadium.
TWICE have already begun posting photos on their respective accounts. Though Tzuyu and Mina are the only members to only have one photo. Check out the TWICE member's Instagram pages here:
Jihyo: IG username - @_zyozyo
TWICE's leader greeted her ONCEs by saying "Hi ONCE" while holding a slice of pizza. Jihyo made sure to show off her wacky side to fans, something she is already popular for.
Nayeon: IG username - @nayeonyny
TWICE's resident bunny uploaded a plethora of photos on her Instagram account and it was a mix between full-body shots and beautiful selfies.
Jeongyeon: IG username - @jy_piece
TWICE's Jeongyeon's second Instagram post was a beautiful selfie of her putting on lipstick.
READ: Third Generation Domination: TWICE, BLACKPINK, & Red Velvet Are The Reigning Queens Of Twitter, See Full Rankings
Momo: IG username - @momo
The dancing machine of TWICE chose a photo backstage as her second upload on IG. In the post, Momo's face rests on her hand and she notably rocked a monochromatic outfit.
Sana: IG username - @m.by__sana
Sana stood out as she looked stunning in her 2nd Instagram upload. The TWICE member was wearing a handkerchief top and wide-leg jeans for her Instagram update.
Mina: IG username - @mina_sr_my
TWICE's Mina has not yet uploaded a second post on her IG account as of writing this article. Though she captioned her first photo as "START" alongside a penguin emoji.
Dahyun: IG username - @dahhyunnee
One of the members of TWICE's maknae lines decided to add some heat to her second IG upload. Dahyun decided to flex her toned body and fiery fit to the delight of ONCEs.
READ: When Idols Interact With Their Idols, Famed Director Tim Burton Receives Love From TWICE's Chaeyoung
Chaeyoung: IG username - @chaeyo.0
TWICE's artistic baby tiger lived up to her nickname as Chaeyoung shared her art as her second post on Instagram.
Tzuyu: IG username - @thinkaboutzu
TWICE's maknae is the 2nd member of TWICE to not have uploaded a second post on IG as of writing this article. Though Tzuyu captioned her first post with "Welcome, I'm Tzuyu." to welcome her fans.
READ: Well-Fed ONCEs: Momo, Chaeyoung, & Tzuyu Surprise TWICE Fans With Special Performance Videos Alongside Kiel Tutin
© 2023 Korea Portal, All rights reserved. Do not reproduce without permission.
Tags:
kwave
,
kwave news
,
kwave updates
,
Kpop
,
kpop news
,
Kpop updates
,
JYP
,
JYP artists
,
JYP Entertainment
,
JYP Entertainment artists
,
JYP Entertainment news
,
JYP Entertainment updates
,
JYP Entertainment TWICE
,
TWICE
,
TWICE news
,
TWICE Updates
,
TWICE members
,
TWICE instagram
,
TWICE Instagram accounts
,
TWICE Instagram pages
,
_zyozyo
,
nayeonyny
,
jy_piece
,
Momo
,
m.by__sana
,
mina_sr_my
,
dahhyunnee
,
chaeyo.0
,
thinkaboutzu