NMIXX Honors Their Unnies As The JYP Rookies Covers TWICE's Hit 'What Is Love?'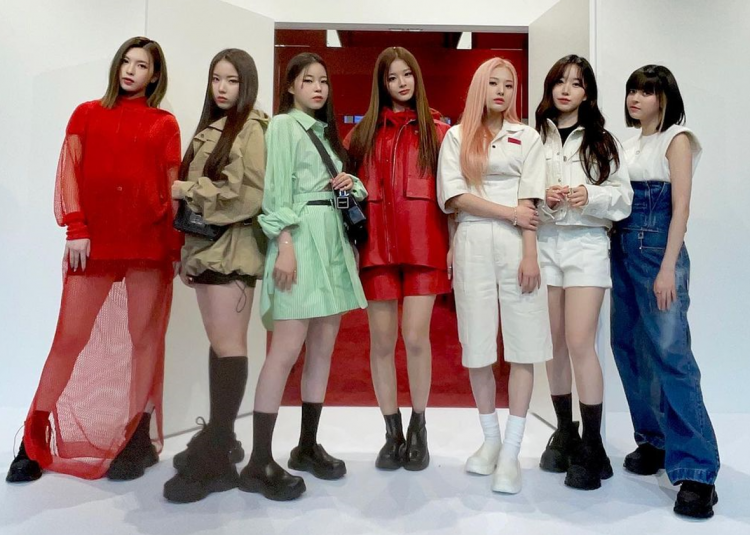 Carrying on the tradition of JYP Entertainment idols, NMIXX recently showcased their prowess in dancing. But beyond flexing their skills on the dance floor, the rookie girl group decided to honor their seniors, TWICE.
READ: Third Generation Domination: TWICE, BLACKPINK, & Red Velvet Are The Reigning Queens Of Twitter, See Full Rankings
To the delight of netizens and K-Pop fans, JYP Entertainment's NMIXX recently did the Relay Dance challenge of M2. Though instead of choosing to just dance to their own hits, Haewon, Lily, Sullyoon, Jinni, BAE, Jiwoo, and Kyujin grooved to the beat of TWICE's popular song.
In the most recent episode of M2's "Relay Dance Again" series, NMIXX did a cover of TWICE's 2018 hit song "What is Love?" Notably, M2's "Relay Dance Again" series has K-Pop idols lining up and taking turns performing in front of the camera.
Netizens praised NMIXX as compared to the fiery and powerful personalities they showed off in their debut track "O.O," their cute sides came out while doing a cover of TWICE's "What Is Love?"
READ: 'MORE & MORE' Flavors: How To Eat Like The Members Of JYP Entertainment's TWICE
Fans were happy to see the duality of the rookie K-Pop girl group. At this point in their careers, fans have seen Haewon, Lily, Sullyoon, Jinni, BAE, Jiwoo, and Kyujin's charismatic sides. Though NSWERs (NMIXX's fandom) love the girl group's energy, they also seem to appreciate the cute and lighter side of NMIXX.
Hopefully, fans will get to see more of NMIXX's softer side as they progress into their careers.
Watch NMIXX dance their hearts out, performing their version of TWICE's "What Is Love?" via M2's Relay Dance challenge here:
READ: NMIXX Sullyoon's Expressions in 'TANK' Fancam Receives Negative Reactions From Some Netizens
Stay tuned for more news and updates regarding NMIXX and other K-Pop artists here!
© 2023 Korea Portal, All rights reserved. Do not reproduce without permission.
Tags:
kwave
,
kwave news
,
kwave updates
,
Kpop
,
kpop news
,
Kpop updates
,
JYP
,
JYP artists
,
JYP Entertainment
,
JYP Entertainment artists
,
JYP Entertainment news
,
JYP Entertainment updates
,
JYP Entertainment NMIXX
,
JYP Entertainment TWICE
,
NMIXX
,
NMIXX news
,
NMIXX updates
,
NMIXX and TWICE
,
TWICE and NMIXX
,
TWICE
,
TWICE news
,
TWICE Updates
,
M2
,
M2 news
,
M2 updates
,
M2 Relay Dance Again
,
Relay Dance Again
,
Relay Dance Again NMIXX
,
NMIXX Relay Dance Again