A Couple Of Hungry & 'Lovesick Girls': A BLINK's Guide To BLACKPINK's Favorite & Least Favorite Foods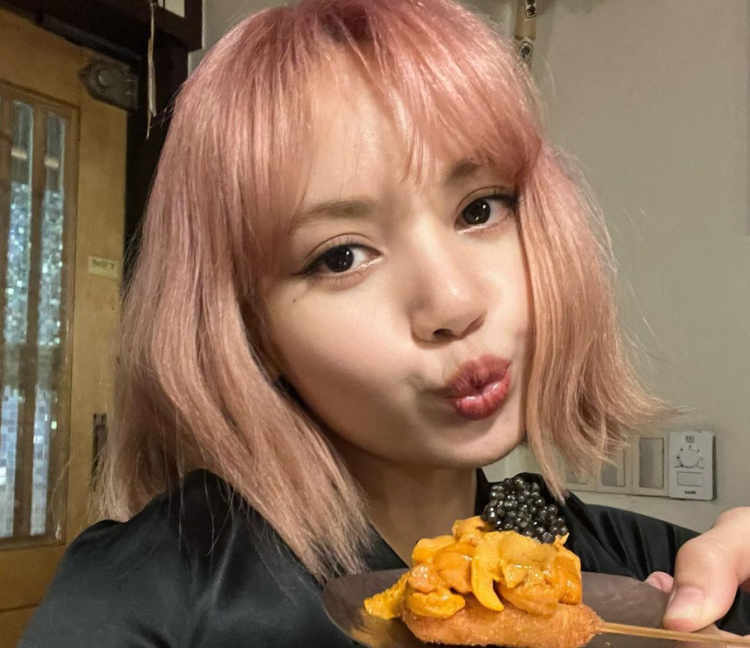 The members of BLACKPINK love almost every type of food. From simple snacks to amazing dishes, the members are complete foodies. But in a previous interview with Star Road, members Jisoo, Jennie, Rosé, and Lisa specifically shared which food they love and hate.
READ: IVE Reaches Milestone By Becoming May's Top Girl Group Followed By (G)I-DLE & BLACKPINK, Full Rankings Here
In the interview, the members of BLACKPINK played the "how well do you know each other" game. Beyond details such as family, hobbies, and other fun facts, the members talked about their favorite (and least loved) food. Find BLACKPINK's preferred food here!
Jisoo
Favorite Food: Rice
Least Loved Food: Seafood
BLACKPINK's Jisoo loves rice in all shapes and sizes. Notably, BLACKPINK's Jennie correctly guessed that "Snowdrop" actress's most and least favorite fruit, naming strawberry and mango, correctly. Though the eldest BLACKPINK member revealed that she dislikes clams and oysters.
Jennie
Favorite Food: Sandwiches (preferably with avocado)
Least Loved Food: Pizza
BLACKPINK's Jennie shared that she surprisingly dislikes pizza. Though the "SOLO" singer enjoys eating sandwiches, particularly the ones with sliced avocados on top.
READ: BLACKPINK Jennie's Small Appearance on 'The Kardashians' Makes K-Pop Fans Nostalgic
Rosé
Favorite Food: Salad
Least Loved Food: Avocado
Adorably, BLACKPINK's Lisa correctly guessed that Rosé is a superfan of salads. The main vocalist also explained that her favorite fruit is mango. Shockingly, Rosé has a distaste for avocados, something Jennie deeply loves.
Lisa
Favorite Food: Pork backbone stew (specifically gamjatang)
Least Loved Food: Eel
BLACKPINK Lisa's favorite food is in fact Korean, specifically pork backbone stew. The maknae also noted that her favorite fruit is strawberries. Though similarly to Jisoo, Lisa also has a distaste for seafood to some degree as she hates eel.
READ: BLACKPINK's Lisa Sells Out The Clothes She Rocked With Her Elle Korea Magazine Covers
© 2023 Korea Portal, All rights reserved. Do not reproduce without permission.
Tags:
kwave
,
kwave news
,
kwave updates
,
Kpop
,
kpop news
,
Kpop updates
,
YG
,
YG artists
,
YG Entertainment
,
YG Entertainment artists
,
YG Entertainment news
,
YG Entertainment updates
,
YG Entertainment BLACKPINK
,
YG Entertainment BLACKPINK Jisoo
,
YG Entertainment BLACKPINK Jennie
,
YG Entertainment BLACKPINK Lisa
,
YG Entertainment BLACKPINK Rosé
,
YG Entertainment BLACKPINK Rosé
,
YG Entertainment Rosé
,
YG Entertainment Rosé
,
YG Entertainment Lisa
,
YG Entertainment Jennie
,
YG Entertainment Jisoo
,
BLACKPINK
,
Blackpink news
,
Blackpink updates
,
BLACKPINK members
,
blackpink jennie
,
BLACKPINK Jennie favorite food
,
BLACKPINK favorite food
,
favorite food BLACKPINK
,
Jennie
,
Jennie news
,
Jennie updates
,
blackpink lisa
,
BLACKPINK Lisa news
,
BLACKPINK Lisa updates
,
BLACKPINK Lisa favorite food
,
Lisa favorite food
,
blackpink jisoo
,
BLACKPINK Jisoo news
,
BLACKPINK Jisoo updates
,
BLACKPINK Jisoo favorite food
,
Jisoo
,
Jisoo news
,
Jisoo updates
,
Jisoo favorite food
,
blackpink rose
,
BLACKPINK Rosé news
,
BLACKPINK Rosé updates
,
BLACKPINK Rosé favorite food
,
Rose
,
Rose news
,
Rose updates
,
Rosé favorite food
,
blackpink rose
,
BLACKPINK Rosé news
,
BLACKPINK Rosé updates
,
BLACKPINK Rosé favorite food
,
Rosé favorite food
,
Rose
,
Rose news
,
Rose updates