BLACKPINK's Lisa Sells Out The Clothes She Rocked With Her Elle Korea Magazine Covers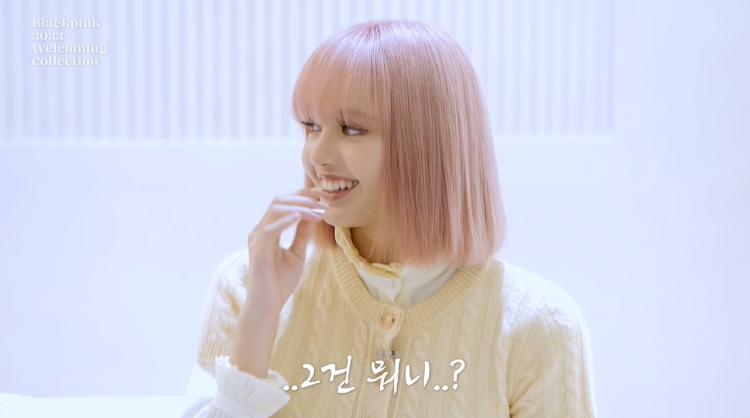 Due to the fact that each BLACKPINK member is an ambassador for one luxury brand or more, the K-pop girl group is always giving inspiration to anyone who sees them rocking fashion, making everything they wear an immediate hot topic.
READ: Her Solo Career, Surprises From Fans, & More, BLACKPINK's Lisa Tells All On Elle Korea
This is specifically why when BLACKPINK's Lisa was featured on multiple covers for Elle Korea magazine, the outfits the K-pop idol rocked from two of the covers immediately went on to be sold out.
Notably, on one of the covers for Elle Korea, BLACKPINK's Lisa stares into the camera with long, blonde hair, sharp winged liner, and a classy knitted jacket. Her powerful gaze simply oozed charisma.
Though BLACKPINK Lisa's jacket was the only part of the outfit shown, the fans of the K-pop idol still went on to Celine's website and paid $3,600 (approximately 4,465,764 KRW) for the "CHASSEUR" jacket.
READ: Her Solo Career, Surprises From Fans, & More, BLACKPINK's Lisa Tells All On Elle Korea
Adding to this on another cover for Elle Korea magazine, BLACKPINK's Lisa changed her style from casual to formal. The K-pop idol rocked a black suit jacket with matching shorts, a shiny crop top, and a black belt that was totally chic.
Similar to the aforementioned jacket, fans of the K-pop idol quickly bought all of the items from the Celine website.
$940 USD Triple-Pleated Tux Shorts (approximately 1,166,060 KRW)
$395 USD Elegant 11 Belt (approximately 489,993 KRW)
$1,850 USD Viscose Crop Top (approximately 2,294,906 KRW)
$2,950 USD Jude Jacket (approximately 3,659,445 KRW)
Seeing how BLACKPINK's Lisa quickly sold out all the aforementioned items, Celine was right in choosing her as a global ambassador!
The power of #LISA
SOLD OUT items

CELINE: Jackets, top, belt and short

LISA 리사 BLACKPINK 블랙핑크@BLACKPINK pic.twitter.com/WLmWGdEDm2 — BLACKPINK CANADA 2.0 (@iblinkforblink2) April 16, 2022
READ: Fans Melt As BLACKPINK Lisa Drops Steamy Photoshoot For Upcoming 'LALISA GOLD VINYL LP'!
Stay tuned for more news and updates regarding BLACKPINK and other K-pop artists!
© 2023 Korea Portal, All rights reserved. Do not reproduce without permission.
Tags:
Elle
,
ELLE news
,
ELLE updates
,
Elle Korea
,
ELLE Korea news
,
ELLE Korea updates
,
BLACKPINK Lisa ELLE Korea
,
ELLE Korea BLACKPINK Lisa
,
Lisa Elle Korea
,
Elle Korea Lisa
,
kwave
,
kwave news
,
kwave updates
,
Kpop
,
kpop news
,
Kpop updates
,
BLACKPINK
,
Blackpink news
,
Blackpink updates
,
blackpink lisa
,
BLACKPINK Lisa news
,
BLACKPINK Lisa updates
,
Lisa
,
Lisa news
,
Lisa updates
,
Celine
,
Celine news
,
Celine updates
,
YG
,
YG artists
,
YG Entertainment
,
YG Entertainment artists
,
YG Entertainment news
,
YG Entertainment updates
,
YG Entertainment BLACKPINK
,
YG Entertainment BLACKPINK Lisa
,
YG Entertainment Lisa