Spunk On Stage & On Air, (G)I-DLE's Soyeon Gets Her Revenge On Comedian Kim Gu Ra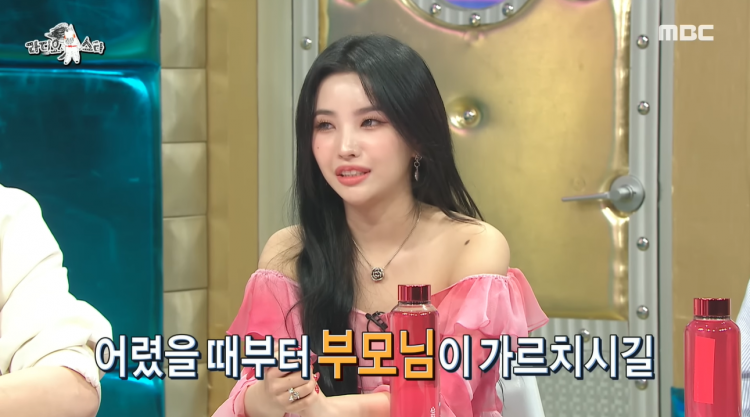 Years after being "disrespected," (G)I-DLE's Soyeon finally gets back at comedian Kim Gu Ra on "Radio Star" and fans love it!
READ: Stray Kids, TREASURE, (G)I-DLE: Get To Know The Best-Selling 4th-Gen K-Pop Artists On Hanteo
Previously in 2019, Soyeon appeared on "Radio Star." On the show, comedian Kim Gu Ra asked her if they would know (G)I-DLE's song if they heard it. The comedian defended himself for asking the rude question by saying that it was hard to keep up with K-Pop idols as there were a lot of rookies making their debuts.
Kim Gu Ra mainly caught the ire of fans as he appeared too blunt. The comedian noted, "When you get to our age, you just don't know. We only know that ITZY is a popular trending group." Adding to the tense situation, Soyeon was then asked by Kim Gu Ra if (G)I-DLE was as popular as ITZY.
During the interview, (G)I-DLE had already won 7 Rookie of the Year awards. On top of that, they were able to get their first music show win only 20 days after their debut. (G)I-DLE's Soyeon talked about their aforementioned achievements in her introduction during her 2019 "Radio Star" appearance.
Notably, Soyeon answered Kim Gu Ra's question by saying: "Oh, but they won 1st place on a public broadcast music show. But we're, uh, in the process of working towards it."
Though the (G)I-DLE leader seemed unbothered by Kim Gu Ra's question, netizens were not happy with the comedian as he compared (G)I-DLE and ITZY. But recently, Soyeon was able to get the last laugh.
Soyeon recently appeared on "Radio Star" once again. In her recent appearance, the (G)I-DLE leader showed Kim Gu Ra how it felt to be compared to another star. She did this by comparing him to fellow comedian Choi Joon in a diss rap which was done to the beat of (G)I-DLE's "MY BAG."
"Hey kiddos, you don't know who Kim Gu Ra is, right? Hmm...sunbae, you're about as famous as Choi Joon, I think? Let me give you some advice. Pointing your finger isn't trendy these days. If you lose your touch, move on to Pokémon Bread mukbangs," (G)I-DLE's Soyeon rapped.
Hopefully, the comedian learned his lesson!
READ: (G)I-DLE's Miyeon Stuns Fans After Revealing Second Concept Photos For Upcoming Solo Album 'MY'
Check out (G)I-DLE Soyeon's full rap here:
© 2023 Korea Portal, All rights reserved. Do not reproduce without permission.
Tags:
kwave
,
kwave news
,
kwave updates
,
Kpop
,
kpop news
,
Kpop updates
,
Radio Star
,
Radio Star news
,
Radio Star updates
,
Kim Gu Ra
,
Kim Gu Ra news
,
Kim Gu Ra updates
,
Cube Entertainment
,
Cube Entertainment artists
,
Cube Entertainment news
,
Cube Entertainment updates
,
(G)I-DLE
,
(G)I-DLE news
,
(G)I-DLE updates
,
(G)I-DLE Jeon Soyeon
,
(G)I-DLE Jeon Soyeon news
,
(G)I-DLE Jeon Soyeon updates
,
(G)I-DLE Soyeon
,
(G)I-DLE Soyeon news
,
(G)I-DLE Soyeon updates
,
Soyeon
,
Soyeon news
,
Soyeon updates
,
Jeon Soyeon
,
Jeon Soyeon news
,
Jeon Soyeon updates