'Sh**ting Stars' Leads Lee Sung Kyung & Kim Young Dae Have Chemistry For Days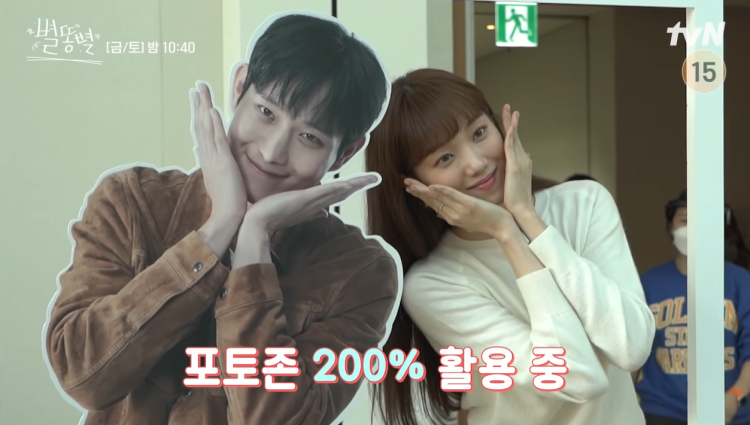 Is it hot in here? Or are just Lee Sung Kyung and Kim Young Dae's chemistry too hot to handle?
READ: Melting Hearts While Making It Rain, The Wealthiest Korean Actors Of 2022
Just recently, tvN uploaded new behind-the-scenes footage from their upcoming drama "Sh**ting Stars." The tvN K-Drama revolves around the story of people who work behind the scenes in the entertainment industry, notably cleaning up the messes and problems created by celebrities.
The tvN K-drama shows the real story of people who sacrifice blood, sweat, and tears to make celebrities seem as spotless and perfect as possible.
The K-Drama stars Lee Sung Kyung as Oh Han Byul, the head of the PR team at an entertainment label, and Kim Young Dae as seemingly perfect celebrity Gong Tae Sung. Furthermore, the two superstars are supplemented by Lee Jung Shin who plays Do Soo Hyuk, a legal advisor to the agency Star Force Entertainment.
Viewers were already convinced by Lee Sung Kyung and Kim Young Dae's chemistry, but recent behind-the-scenes clips further elevate the two stars' ability as a duo.
In the new video, Lee Sung Kyung was adorably teaching Kim Young Dae the dance moves to aespa's "Next Level" as they wait to film a scene. The duo continues to flex their chemistry as they effortlessly portray it in their scene, their characters running into each other at the movie theater.
Further adding depth to the actors' chemistry, the clip then reveals Lee Sung Kyung posing beside Gong Tae Sung's cardboard cut-out while he is hosting a fan signing event.
Lastly, Kang Ki Doong (who has a special appearance) comments that he is thankful to be making a special appearance on tvN's "Sh**ting Stars." The actor noted, "I think the story of the entertainment agency and the stars will be fun to watch, and I'm looking forward to it myself."
READ: Girls On Top: The Highest Paid Korean Actresses In 2022
Check out the chemistry of Lee Sung Kyung and Kim Young Dae in the b-t-s video here:
© 2022 Korea Portal, All rights reserved. Do not reproduce without permission.
Tags:
kwave
,
kwave news
,
kwave updates
,
Kdrama
,
kdrama news
,
kdrama updates
,
TvN
,
tvN news
,
tvN updates
,
tvN drama
,
tvN kdrama
,
tvN Sh**ting Stars
,
Sh**ting Stars news
,
Sh**ting Stars updates
,
Sh**ting Stars stars
,
Sh**ting Stars leads
,
Sh**ting Stars Lee Sung Kyung
,
Lee Sung Kyung Sh**ting Stars
,
Sh**ting Stars Kim Young Dae
,
Kim Young Dae Sh**ting Stars
,
Lee Sung Kyung and Kim Young Dae
,
Kim Young Dae and Lee Sung Kyung
,
Kim Young-dae
,
Kim Young-dae news
,
Kim Young-dae updates
,
Lee Sung Kyung
,
lee sung kyung news
,
lee sung kyung updates