Facebook To Cease Its Podcast Platform Less Than A Year After Its Launch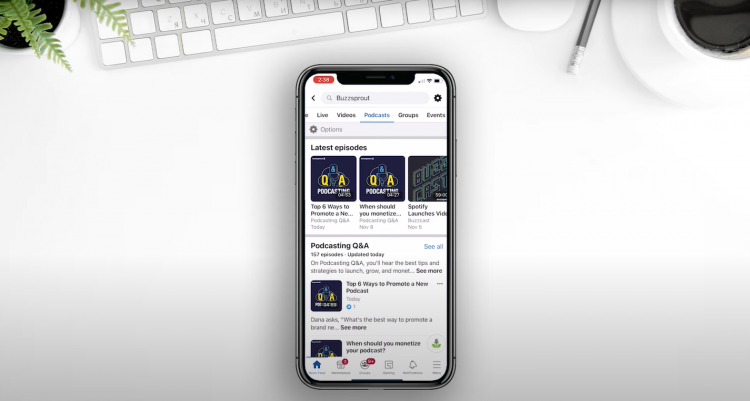 Facebook will be shutting down its podcast platform after less than a year since it launched. According to reports from Bloomberg News, podcasters can no longer upload new shows to the service as of this week. The closing date isn't officially specified, but reports suggest it might close altogether on June 3rd.
The shift in service is one part of a broader re-evaluation of Facebook's existing audio products. The technology company is also shutting two audio rooms: the site's Soundbites and Audio hubs. Meanwhile, it's integrating the live-streaming Live Audio Rooms feature (similar to the audio app Clubhouse) into its broader Facebook Live suite.
READ: Streaming Service CNN+ Is Shutting Down Just Weeks After It Launched
Facebook launched podcasts and live audio streams in the US with the aim to keep users engaged on its platform while competing with emerging rivals. The platform allowed public figures with verified accounts to start live audio rooms and invite anyone else to speak.
CEO Mark Zuckerberg hosted his own live audio room on his Facebook page no later after it first launched. "Live Audio Rooms and podcasts rolling out in the US is just the beginning of our audio journey," wrote Fidji Simo, head of the Facebook app, during the launch.
Recently, however, Facebook spokesperson Adelaide Coronado told The Verge that the change is a move to "simplify" the company's audio offerings.
READ: Mark Zuckerberg Says Meta Employees 'Lovingly' Refer To Him As The 'Eye of Sauron'
"After a year of learning and iterating on audio-first experiences, we've decided to simplify our suite of audio tools on Facebook," said Coronado. "We're constantly evaluating the features we offer so we can focus on the most meaningful experiences."
The audio market was full of competition in 2020 and 2021. Established podcast platforms such as SiriusXM and Amazon were buying up podcast networks while live audio app Clubhouse was briefly valued at $4 billion. This made it difficult for the fresh feature to hold its ground in the podcasting market. As Facebook focuses on shaping and developing its Meta platform, ceasing its other offerings may be a tactical business move.
© 2023 Korea Portal, All rights reserved. Do not reproduce without permission.