A Dash Of K-Pop In Your Ramyeon: Must-Try Ramen Recipes From Your Favorite Idols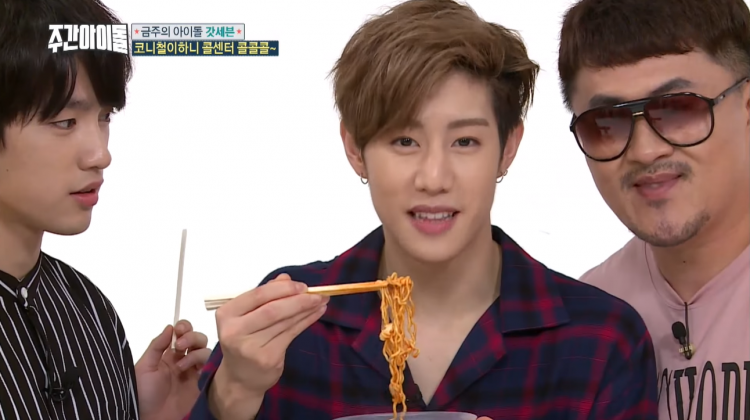 In the land of the rising sun, ramen can either be instant or fresh, but in the peninsula, ramyeon (the Korean version of Japan's ramen) is mostly instant. Notably, a package of ramyeon usually comes with instructions on how to prepare it. Thus, cooking and eating ramyeon is as easy as 1, 2, and 3. Yet how can one add flair to the humble noodle dish? Simple. You K-pop-fy it.
READ: A Sprinkle Of Talent & Taste: Male K-Pop Idol Chefs & Their 'Signature Dishes'
K-pop idols are fond of eating ramyeon as it is filling and easy to prepare. Less time for cooking means more time for K-pop activities. But some idols have found ways to 'spice up' their usual ramyeon bowls.
Among the K-pop artists who enjoy a bowl of ramen, here are must-try ramyeon recipes from your favorite idols:
MAMAMOO Hwasa
Hwasa has a pretty expensive twist on her ramyeon recipe. Making use of Jjapaghetti as her ramyeon of choice, the MAMAMOO member adds a healthy amount of truffle oil to add more aroma and flavor.
GOT7's Mark
Though Mark's ramen recipe was initially inspired by a fan, the GOT7 member has gone on to master and add his own flair to the otherwise simple dish. The K-pop idol commonly uses Ottogi's Spaghetti Ramen with instant rice cakes. Mini sausages and cheese are also present, inviting more flavor to the party.
SEVENTEEN
Possibly the spiciest ramyeon dish on this list, SEVENTEEN's recipe is for fans who love spicy food. The members of the K-pop boy group lean towards using Samyang Chicken Fire Noodles and the Jjapaghetti. SEVENTEEN makes use of spam, garlic, and sliced peppers for their upgraded ramyeon. Cheese is optional but is highly recommended.
NCT Chenle
Chenle's ramyeon recipe is a fusion of Chinese and Korean cultures. The NCT member uses tomatoes, a big tablespoon of Lao Gan Ma (a Chinese hot chili oil), and scrambled eggs. For his weapon of choice, NCT Chenle uses Kang Shi Fu Braised Ramen Noodles.
READ: The Best Korean Street Foods To Satisfy Your Craving Taste Buds
© 2023 Korea Portal, All rights reserved. Do not reproduce without permission.
Tags:
kwave
,
kwave news
,
kwave updates
,
kfood
,
kfood news
,
kfood updates
,
Kpop
,
kpop news
,
Kpop updates
,
Ramyeon
,
ramyeon recipes
,
kpop idol ramyeon recipes
,
kpop ramyeon recipes
,
ramen
,
ramen recipes
,
kpop ramen recipes
,
kpop idol ramen recipes
,
Mamamoo
,
MAMAMOO Hwasa
,
Hwasa
,
GOT7
,
got7 mark
,
GOT7 Mark Tuan
,
mark
,
Mark Tuan
,
Seventeen
,
NCT
,
NCT Chenle
,
Chenle