IVE Leeseo Talks About The Time She Kissed Actress Han Hyo Joo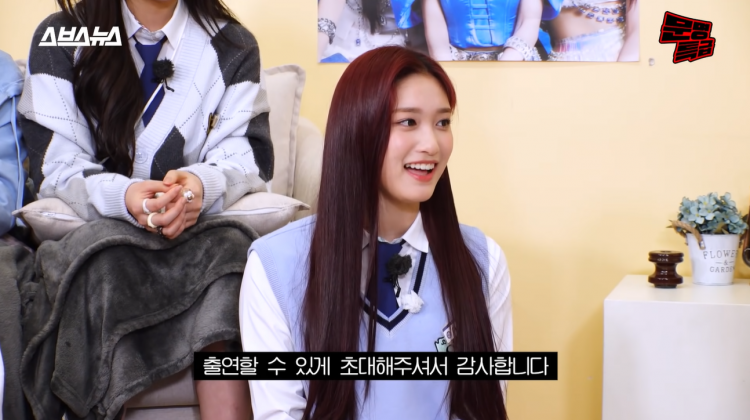 Leeseo of Starship Entertainment's Rookie K-pop girl group IVE recently talked about a sweet experience she had with Han Hyo Joo, kissing the actress on the lips when she was just a baby.
READ: IVE's Debut Song 'Eleven' Surpasses 100 Million Streams on Spotify
Just recently, MMTG uploaded a video featuring IVE's Yujin, Gaeul, Rei, Wonyoung, Liz, and Leeseo on their YouTube channel. In the interview, Jaejae (the show's host) asked IVE's maknae Leeseo if the K-pop idol remembers being featured in SBS' show "Hanbam."
Following this question, a video of SBS' "Hanbam" at that time began to play. The video showed a baby Leeseo from IVE was being held by her mother, wearing a cute flower-patterned dress, proving that even as a kid, the K-pop idol was already adorable.
Further in the video, actress Han Hyo Joo was simply finding baby Leeseo adorable. She then asked her for a kiss on the lips. Without thinking twice, the future K-pop idol gave Han Hyo Joo a kiss on the lips while giving back a smile.
Seeing this, IVE's Leeseo expressed to Jaejae, "Ah yes, I know about this." The K-pop idol then looked at the camera and greeted actress Han Hyo Joo by saying "Hello, Han Hyo Joo sunbae-nim."
"Han Hyo Joo and the team of 'Hanbam' was trying to interview my mom who went out to throw away food waste," IVE's Leeseo explained.
READ: WIZ*ONE's Tear Up As Eunbi & IVE's Wonyoung Have An IZ*ONE 'Reunion' On 'Music Bank'!
IVE's Leeseo then added that she was actually too young that the K-pop idol does not actually remember the day in the video. Though Leeseo's mom did tell her about it when she became a little bit older.
MMTG host Jaejae really found the moment amazing as she commented, "How cool is that? Han Hyo Joo must've found you really cute."
© 2023 Korea Portal, All rights reserved. Do not reproduce without permission.
Tags:
Han Hyo Joo
,
Han Hyo Joo news
,
Han Hyo Joo updates
,
Han Hyo Joo and Leeseo
,
Leeseo and Han Hyo Joo
,
IVE Leeseo and Han Hyo Joo
,
Han Hyo Joo and IVE Leeseo
,
kwave
,
kwave news
,
kwave updates
,
Kpop
,
kpop news
,
Kpop updates
,
Starship Entertainment
,
Starship Entertainment news
,
Starship Entertainment updates
,
Starship Entertainment IVE
,
Starship Entertainment IVE Leeseo
,
Starship Entertainment Leeseo
,
IVE
,
IVE news
,
IVE updates
,
IVE Leeseo
,
IVE Leeseo news
,
IVE Leeseo updates
,
Leeseo
,
Leeseo news
,
Leeseo updates