Netizens React After Photo Of BTS V Smoking Goes Viral Online!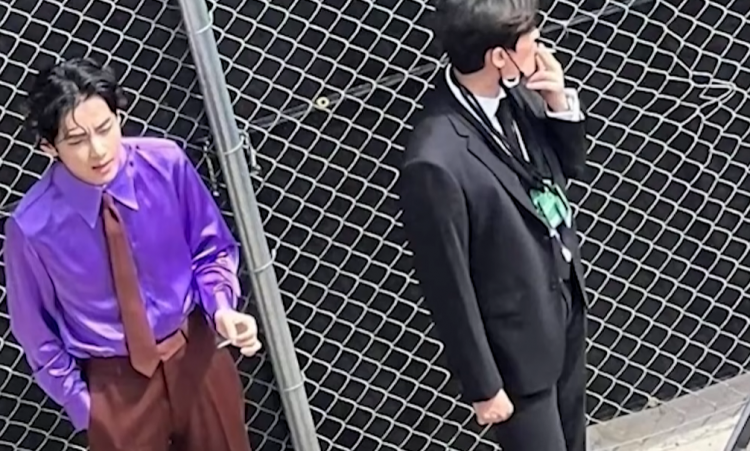 Netizens and K-pop fans believe that BTS's V is a grown man and the K-pop idol can do whatever he wants.
READ: The World Is Shookt As BTS's V 'Flirts' With Olivia Rodrigo At The 2022 GRAMMYs!
The 64th Annual Grammy Awards just recently took place in Las Vegas, and the members of BTS showed up and performed, flexing their talents and visuals. The HYBE K-pop group did so well that they were greeted with a warm standing ovation after their performance.
Notably though, beyond BTS's performance garnering attention, member V was seen smoking backstage, getting the attention of netizens. A lot of K-pop fans were not happy as the photos of V were taken without consent.
Furthermore, BTS's V went on to the trend as the photos of the K-pop idol smoking went on to garner attention. V also trended as the K-pop idol 'flirted' with American singer Olivia Rodrigo.
READ: Big Hit Entertainment Updates Fans On Legal Actions Taken Towards Perpetrators Maliciously Attacking BTS!
Adding to this, Korean K-pop fans are divided as some justify the K-pop idol while others were not happy.
Taehyung was spotted smoking before the performance #김태형 #TAEHYUNG #BTS #방탄소년단 #V #GRAMMYs #GrammyAwards pic.twitter.com/Zgh91b2AzL — hk (@aahaak943) April 4, 2022
One side expressed that since BTS's V is an adult, the K-pop idol can do as he pleases. Some ARMYs (BTS's Fandom) have even explained that it is not a secret that V smokes and regardless if some fans just found out just now or have known for a while now, V should be left alone.
Others have revealed that although BTS's V is a grown man, they are still worried about the K-pop idol's health. Although smoking is something quite common in Asian countries, it is still an unhealthy habit.
READ: Netizens Praise BTS J-Hope As Idol Recovers Gracefully After 2022 Grammy Performance Accident!
The main issue though is that the photo of BTS's V smoking was taken without consent. Neither the K-pop idol nor BTS's label HYBE has commented on the matter.
© 2023 Korea Portal, All rights reserved. Do not reproduce without permission.
Tags:
US
,
US news
,
US updates
,
U.S.
,
U.S. news
,
U.S. updates
,
Grammys
,
Grammys news
,
Grammys updates
,
2022 Grammys
,
Grammys 2022
,
BTS grammys
,
Grammys BTS
,
HYBE
,
HYBE artists
,
HYBE BTS
,
HYBE Labels
,
HYBE Labels artists
,
HYBE Labels BTS
,
BTS
,
bts news
,
BTS Updates
,
bts v
,
bts v news
,
BTS V updates
,
BTS V smoking
,
V
,
V news
,
V updates
,
V smoking