Apple Update Fixes Battery Drain and Security Issue With iOS 15.4.1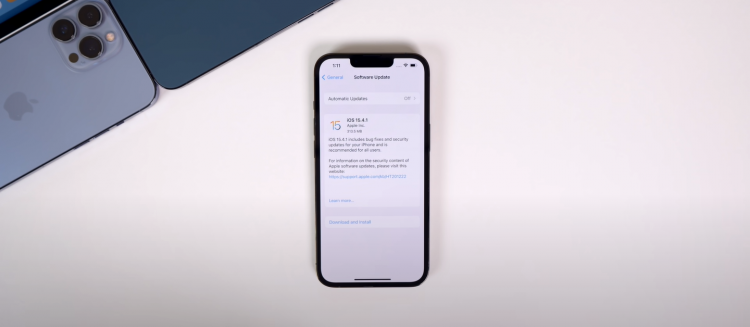 Apple has released a follow-up software update for iOS and iPadOS a few weeks after iOS 15.4 went live. Update 15.4.1 brought several fixes to accessibility bugs, improved security, and squashed a battery drain bug that some users reported after updating to the previous iOS.
Earlier this month, Apple Support responded via Twitter to the battery drain concern through a reply: "Thanks for reaching out! We'll be happy to help. It's normal for your apps and features to need to adjust up to 48 hours after an update."
READ: The Great Apple Arcade: Here's What Apple Has In Store For Users This 2022!
The initial update released new features such as the ability to use Face ID while wearing a mask which can be convenient for those who enabled the facial recognition system when handing Apple Pay, Safari, and password autofill in apps. The feature puts emphasis on the unique characteristics around your eyes using the same face scan process.
New emojis were made available to the emoji keyboard including fresh faces, hand gestures, and household objects. An additional voice was added to Siri, increasing the diversity of options to the virtual assistant.
Some of the accessibility bugs that were addressed dealt with braille devices becoming unresponsive while navigating text or displaying an alert and iPhone-dedicated hearing devices losing connection within some third-party apps
READ: Digital Business Companion: Apple Declared The Official Launch Of Its Business Essentials Service
IOS 15.4.1 also contained a security fix for issues that are vulnerable to exploitation. The impact of the vulnerability fixed in iOS 15.4.1 is "as severe as they come", security researcher Sean Wright told Forbes. "Anything that has the ability to execute commands with kernel privileges allows an attacker to have full control over the device."
Battery issues aside, running the latest version of the OS might help prevent other potential issues from arising as well as bestow the new features that come along with it. Update iOS 15.4.1 is now available for all iOS 15-compatible devices, covering iPhone 6S and later.
© 2023 Korea Portal, All rights reserved. Do not reproduce without permission.
Tags:
US
,
US news
,
US updates
,
U.S.
,
U.S. news
,
U.S. updates
,
Apple
,
Apple News
,
Apple Updates
,
Apple ios
,
Apple iOS news
,
Apple iOS updates
,
Apple iOS 15.4.1
,
iOS
,
iOS news
,
iOS updates
,
iOS 15.4.1
,
iOS 15.4.1 news
,
iOS 15.4.1 updates
,
iPadOS
,
iPadOS news
,
iPadOS updates
,
Apple iPadOS
,
Apple iPadOS news
,
Apple iPadOS updates