JYP Entertainment Sisterhood: NMIXX Reveals How Important TWICE & ITZY Are To Them!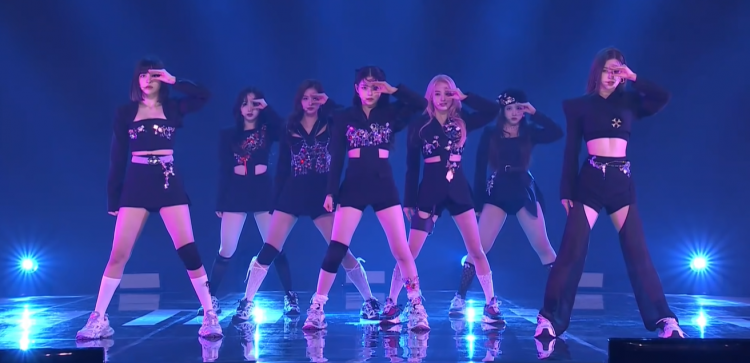 JYP Entertainment is notorious for debuting immensely successful female K-pop artists and due to this, it seems like NMIXX have huge shoes to fill. But beyond the pressure, NMIXX recently shared how much love they have for Wonder Girls, Miss A, TWICE, and ITZY.
READ: NMIXX Flex Their Talents As Members Cover Stray Kids, ITZY, TWICE, SNSD, Sunmi, & Miss A On 'Weekly Idol'!
On the 1st of March, JYP Entertainment's most recent K-pop girl group NMIXX held their first online showcase for their debut single "AD MARE." In their showcase, NMIXX performed "O.O" and "Tank" and they also talked about a lot of topics.
In the showcase, the seven-member K-pop girl group was asked who their role models are among their JYP Entertainment seniors, also known as their sunbaes. With this, the members of NMIXX did not hold back.
NMIXX's Jiwoo showed how grateful she is to her seniors as she expressed, "The seniors have been a strong source of strength for us. When we met in the practice room, they would look at us with affectionate eyes and always gave us encouragement. They served as an example as a good senior. I would like to take this opportunity to thank them."
Following this, NMIXX's Bae then revealed TWICE as her role models. The K-pop idol noted that she really likes and respects TWICE. As per Bae when she was a trainee, she nurtured her dreams by watching TWICE's stage videos.
"I couldn't believe it when I saw them in real life at the company. They said that they support me, so I was able to work harder and go prepare for my debut," NMIXX's Bae added.
NMIXX's Sullyoon also felt similar sentiments as she revealed, "I am a fan of TWICE, so I auditioned for JYP. I met them and fell in love with them again after seeing their professional appearance. Like TWICE's seniors, we will work hard so that we can become someone's dream," Sullyoon expressed.
Notably, NMIXX's Jiwoo further added that ITZY was her role model as similar to the K-pop girl group, NMIXX will become a group people want to see. Supplementing this, Kyujin shared that she prepared for NMIXX's debut by watching ITZY's perfect performances.
Although NMIXX has a long way to go before reaching the same acclaim as their seniors, the rookie K-pop girl group from JYP Entertainment has shown that they have the potential to be as successful as Wonder Girls, Miss A, TWICE, and ITZY.
© 2023 Korea Portal, All rights reserved. Do not reproduce without permission.
Tags:
kwave
,
kwave news
,
kwave updates
,
Kpop
,
kpop news
,
Kpop updates
,
JYP
,
JYP artists
,
JYP Entertainment
,
JYP Entertainment artists
,
JYP Entertainment news
,
JYP Entertainment updates
,
JYP Entertainment NMIXX
,
JYP Entertainment Wonder Girls
,
JYP Entertainment Miss A
,
JYP Entertainment TWICE
,
JYP Entertainment ITZY
,
NMIXX
,
NMIXX news
,
NMIXX updates
,
NMIXX showcase
,
NMIXX online showcase
,
Wonder Girls
,
Miss A
,
TWICE
,
ITZY