Netizens & ReVeluvs Upset At Reporters As Red Velvet Gets Disrespected 11th Gaon Chart Music Awards!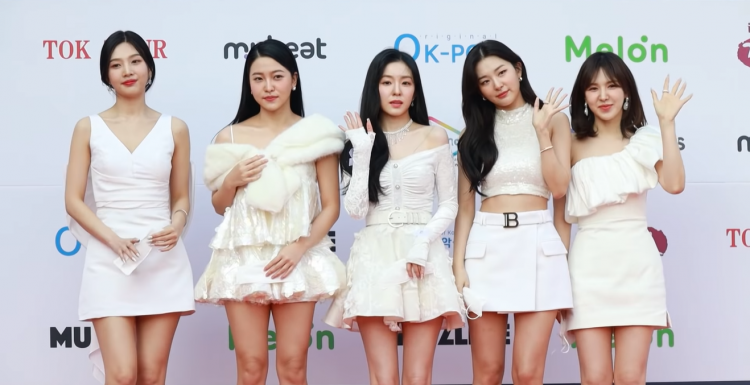 On the 27th of January, the 11th Gaon Chart Music Awards took place. Similarly, there was a slew of new COVID-19 cases in South Korea, more specifically around 14,000+ new cases. Furthermore, many celebrities such as K-pop idols have reported to be part of the new cases.
READ: IU & BTS Sweep The 11th Gaon Chart Music Awards +Full List Of Winners!
But regardless, reporters covering the 11th Gaon Chart Music Awards went on to force SM Entertainment's K-pop girl group to take off their masks while they posed for pictures on the event's red carpet and thus, netizens and ReVeluvs (the fandom of Red Velvet) were not happy.
Notably, Seulgi was the first member of Red Velvet to notice that reporters were asking the K-pop artists to take off their masks. After this, Seulgi immediately turned to Irene, Red Velvet's leader, and signaled if they should remove their masks.
READ: Fans Melt As GOT7's BamBam Charms Red Velvet's Wendy On SBS Power FM's 'Youngstreet'!
Red Velvet's Irene immediately shook her head to answer no while crossing her arms in an X shape. Following suit, Red Velvet Seulgi also crossed her arms to say that the K-pop girl group will not remove their masks.
The reporters still pressured the Red Velvet members to remove their masks off, and seeing this, Irene kept saying no. Eventually, the K-pop artists were pressured enough by the reporters as they took off their masks.
Not long after, clips of the apparent Red Velvet disrespect at the 11th Gaon Music Chart Awards red carpet surfaced and both local and international K-pop fans called out the reporters for putting the Red Velvet members at risk.
READ: ITZY, Red Velvet, (G)I-DLE, & More, K-pop Groups Who Have The Best Live Vocals!
Furthermore, netizens and ReVelus went on to praise Red Velvet's Irene for trying to stand up for herself and her fellow K-pop artists. Korean netizens on online forums further praised Irene for her actions, calling out reporters for what they did.
© 2023 Korea Portal, All rights reserved. Do not reproduce without permission.
Tags:
Gaon Chart Music Awards
,
Red Velvet Gaon Chart Music Awards
,
Gaon Chart Music Awards Red Velvet
,
Gaon Chart Music Awards news
,
Gaon Chart Music Awards updates
,
11th Gaon Chart Music Awards
,
Red Velvet 11th Gaon Chart Music Awards
,
11th Gaon Chart Music Awards Red Velvet
,
11th Gaon Chart Music Awards news
,
11th Gaon Chart Music Awards updates
,
Gaon
,
Gaon news
,
Gaon updates
,
kwave
,
kwave news
,
kwave updates
,
Kpop
,
kpop news
,
Kpop updates
,
SM
,
SM artists
,
SM Entertainment
,
SM Entertainment artists
,
SM Entertainment news
,
SM Entertainment updates
,
SM Entertainment Red Velvet
,
Red Velvet
,
Red Velvet News
,
Red Velvet Updates