TWICE Is The ONLY Girl Group To Join BTS, EXO, Stray Kids, And GOT7 In The 10 K-Pop Groups Who Dominated Gaon In The Past Decade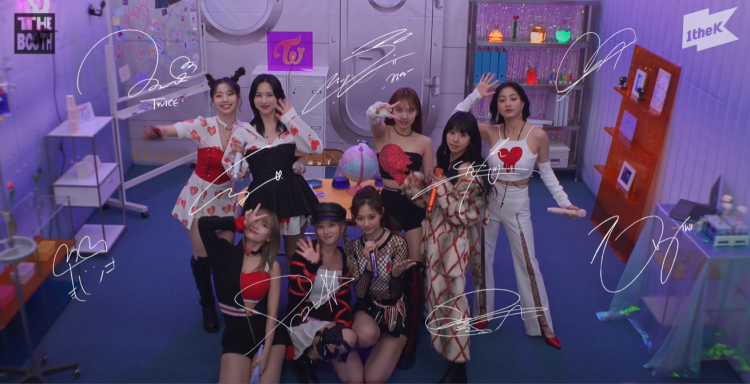 Over the last decade, K-Pop has grown more than just a genre of music but rather a wave that has taken over the world. Groups like BTS, EXO, GOT7, TWICE, and many others have propelled K-Pop into its international popularity.
Based on Gaon's data, here are the best-selling artists who have dominated the K-Pop industry in the past decade!
#10 Monsta X under Starship Entertainment
Since its debut in March 2015, MONSTA X sold over 3.10 million total albums. Their best-selling album is "No Limit" which has sold over 435k copies.
#9 Tomorrow by Together under HYBE Labels
Tomorrow by Together made its debut not long ago in March 2019. Despite being in the industry for a short period of time, TxT sold over 3.30 million total albums since its debut. Their best-selling album is "The Chaos Chapter: Freeze," which sold 878k copies.
READ: #SMArigged Trends On Twitter As BLACKPINK's Lisa & Rosé, NCT Dream, Stray Kids & More Didn't Win Bonsang!
#8 Wanna One (disbanded)
Wanna One was the product of the second season of Mnet's "Produce" series. Overall, Wanna One sold 3.60 million albums with their best-selling being "1×1=1 (To Be One)" which sold 1.46 million copies.
#7 GOT7
Previously under JYP Entertainment, GOT7 made its debut in 2014. The boy group has since sold 4.10 million total albums. GOT7's best-selling album "DYE" sold 454k copies.
READ: TWICE's Tzuyu, BLACKPINK's Lisa, Stray Kids' Hyunjin, & More, Kpop Groups & Their Most Biased Members!
#6 Stray Kids under JYP Entertainment
The only 4th-generation K-Pop group to enter this list aside from TxT. The JYP Entertainment boy group made its debut in March 2018. Since then, Stray Kids sold 4.50 million total albums while their best-selling album, "NOEASY," sold 1.3 million copies.
#5 TWICE under JYP Entertainment
TWICE is the only girl group to enter the top 10 best-selling K-Pop groups on Gaon. Since TWICE's debut in October 2015, the nine-membered girl group sold over 7.30 million albums and became the best-selling girl group of all time. Their recent album "Formula of Love: O+T=<3" sold over 809k copies.
READ: Is Heechul Fine Working With TWICE's Momo? Super Junior's Member Indirectly Answers On 'Knowing Bros'!
#4 SEVENTEEN under Pledis Entertainment (HYBE Labels)
SEVENTEEN made its debut in May 2015 and has risen to be one of the hottest boy groups today. In total, SEVENTEEN sold over 10.2 million albums. SEVENTEEN's best-selling one yet is "Attaca" which sold over 2.08 million copies.
#3 EXO under SM Entertainment
Its been almost 10 years since EXO's debut and until now, the group remains to be one of the most popular K-Pop boy groups of today. EXO sold a total of 14.4 million albums since 2012 while its best-selling one is "Don't Mess Up My Tempo" with over 1.98 million sales.
READ: aespa's Karina, TWICE's Tzuyu, IU, & More, Netizens Choose The Top Femme Fatales In K-Pop!

#2 NCT under SM Entertainment
NCT made its debut in 2016 alongside its sub-unit NCT DREAM. The group including all its sub-units has sold over 15.7 million since its debut. The most successful release of NCT so far is "Sticker" which sold over 2.43 million copies.
#1 BTS under HYBE Labels
BTS is the hottest K-Pop group today. Coming from a then-small company, BTS made its debut in June 2013. In total, BTS sold a whopping total of 32.8 million albums since its debut. Their best-selling album is "Map of the Soul: 7" sold 4.72 million copies.

READ: Stray Kids' Lee Know, TWICE's Momo, ITZY's Yeji, & More, The Best Dancers In K-pop!
© 2023 Korea Portal, All rights reserved. Do not reproduce without permission.
Tags:
BTS
,
bts news
,
BTS Updates
,
BTS album sales
,
NCT
,
NCT news
,
NCT updates
,
NCT sales
,
EXO
,
exo news
,
EXO updates
,
EXO sales
,
Seventeen
,
seventeen news
,
Seventeen updates
,
SEVENTEEN album sales
,
TWICE
,
TWICE news
,
TWICE Updates
,
Twice album sales
,
stray kids
,
Stray Kids News
,
Stray Kids Updates
,
Stray Kids album sales
,
GOT7
,
GOT7 News
,
GOT7 UPdates
,
GOT7 album sales
,
Wanna One
,
Wanna One news
,
Wanna One updates
,
Wanna One Album Sales
,
Tomorrow by Together
,
Tomorrow by Together news
,
Tomorrow by Together updates
,
MONSTA X
,
monsta x updates
,
monsta x news
,
Monsta X album sales
,
Kpop
,
Kpop updates
,
kpop news
,
kwave
,
kwave news
,
kwave updates